Getting Started
Why buy American-made Room & Board upholstery?
Our sofas, sectionals and chairs are made in the U.S. by skilled artisans who share our commitment to quality. Pieces are bench made one at a time with durable materials and smart construction techniques to ensure your upholstery lasts through years of comfortable lounging.
Endless options
We offer a wide variety of styles that are in stock and ready for delivery, but you can also personalize your seating with more than 300 custom fabric and leather options. Made for you in as little as five weeks, our custom upholstery allows you to create a look you'll love.
Eco-friendly details
Our upholstery frames are made with responsibly-sourced wood and our cushions incorporate plant-based materials like soy. Water-based, low-VOC glues and stains are used when possible, and efforts are made to reduce waste and recycle materials. All Room & Board upholstery meets—or exceeds—product safety standards.
Our guarantee
Our goal is to provide a positive customer experience by supporting you throughout the entire shopping experience. We stand behind the quality of our products and the prices we charge. If you're not satisfied with your purchase or any part of your experience, just let us know.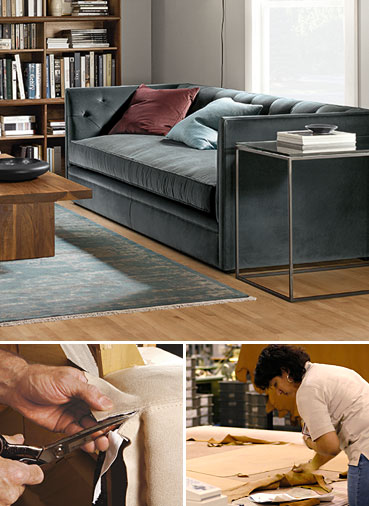 Fabric
Choose from more than 300 upholstery fabrics in rich colors, subtle textures and fresh patterns.
Any Fabric, Any Frame
We select a stocked fabric that complements the design of each of our sectionals, sofas and chairs, but you can also customize your furniture by choosing a fabric that reflects your personal style. Made for you in as little as five weeks, our custom upholstery options allow you to create a look you'll love. Explore Custom Upholstery
Quality by the yard
We partner with some of the most respected fabric mills in the industry to bring you a beautiful assortment of modern upholstery fabrics for your home. Our high standards for durability, including resistance to fading, pilling and abrasion, ensure that your fabric will hold up to daily use.
Attention to detail
The skilled artisans who make our furniture take pride in the fine tailoring details that set us apart. Fully-padded frames, hand-sewn button tufting and perfectly-aligned seams are just a few of the hallmarks of the quality you can expect when you invest in our upholstered furniture.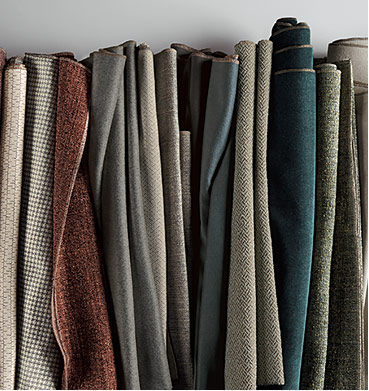 Fabric Glossary
Bouclé
Bouclé is a textured fabric created by weaving together curly, knotted yarns. Bouclé fabrics are soft to the touch and have looped, nubby surfaces that resist wrinkling and camouflage signs of wear.
Chenille
Chenille is constructed from soft, tufted chenille yarn and offers an inviting feel and a consistent texture. Chenille fabrics resist pilling and help minimize the appearance of fabric wrinkles.
Weave
Weave is the most common type of fabric construction and is the result of intertwining multiple yarns together. One of the most versatile types of fabric construction, woven fabric is available in a wide range of styles. The characteristics and performance of a woven fabric will vary based on the technique and materials used.
Jacquard
Jacquard is a woven fabric that adds interest and depth to upholstered furniture. Using a jacquard loom, a blend of yarns is woven together to create multi-color patterns or intricate designs, often with a slightly raised texture. Jacquard resists pilling and is an excellent choice for accent pieces.
Twill
Twill is a casual, relaxed fabric that consists of cotton yarn or similar materials woven together to create the appearance of diagonal lines. Twill fabrics pair a soft feel with the resiliency of natural fibers for a balance of comfort and longevity.
Velvet
Velvet is a pile fabric with a plush, soft feel that offers extreme comfort. The three-dimensional texture of velvet adds depth to fabric colors. Velvet will patina beautifully with time and normal use, although its pile makes it prone to bruising and crushing.
Micro-fabrics
Fabric composed of a blend of synthetic yarns or threads. Micro-fabrics may include micro-suede, micro-velvet, micro-bouclé and micro-chenille.
Micro-suede
Micro-suede consists of fine polyester yarns woven tightly together to create a fabric that is exceptionally strong and durable. Soft to the touch yet able to withstand heavy use, micro-suede is considered easier to clean and maintain than other fabrics. Due to the suede-like appearance of micro-suede, tracking may occur.
Solution-dyed fabric
When you think of solution-dyed fabrics, picture a carrot versus a radish. Solution-dyed fabrics, like a carrot, have fully saturated color throughout each fiber. Traditionally-dyed fabrics, like a radish, have color on the surface of each fiber. Thanks to a unique dyeing method that permeates each fiber with color before it's spun into yarn, solution-dyed fabrics are exceptionally colorfast and resistant to fading.
Leather
Our sophisticated selection of leathers is sourced from all over the globe to bring you unique colors, supple finishes and exceptional quality.
Customize it
We stock many of our sofas, sectionals and chairs in leather, and also offer the option to personalize your furniture with select custom leathers. Our custom upholstery options allow you to choose a leather that works perfectly for your home. Explore Custom Upholstery
Quality and character
Leather adds rich character and comfort to your home. All Room & Board leathers are top-grain or full top-grain—a high standard within the furniture industry. Made from the hide's top layer, these leathers are desired for their thickness, strength and supple texture. Natural markings and color variations, considered the hallmarks of fine leather, are part of each hide's inherent beauty.
Unmatched durability
When you purchase leather furniture, you are investing in a material that offers superior durability and provides natural stain resistance. Our expertly-tailored leather seating achieves a rich patina with age and use, providing years of comfort and enjoyment.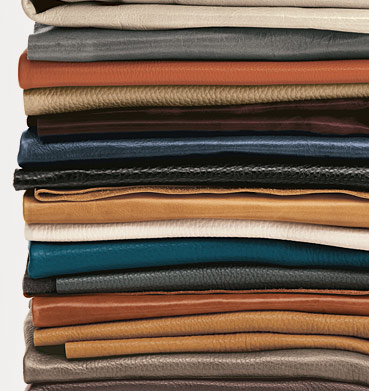 Leather Glossary
Full-aniline leather
Full-aniline leather—also known as pure aniline leather—has minimal color and protection applied in order to highlight and preserve the leather's natural characteristics. Though the hide is dyed all the way through, it is left in its purest state to allow for a beautiful patina with age.
Semi-aniline leather
Semi-aniline leather is a high-performance, low-maintenance leather. It is typically dyed all the way through the hide, and then treated with pigment for added protection and color consistency. This finishing process makes semi-aniline leathers easier to clean and maintain than full-aniline leathers.
Full top-grain leather
Full top-grain leather is high-quality leather that has not been buffed or sanded, preserving the original grain and allowing the natural markings and slight color variations to remain. Considered the hallmarks of fine leather, these characteristics highlight the pure, unprocessed beauty of full top-grain leathers.
Top-grain leather
Top-grain leather is made from the outermost layer of the hide, which is valued for its strength and supple texture. It is buffed and sanded to remove most of the natural markings and to enhance color consistency. A finish may also be applied.
Hair-on-hide leather
Hair-on hide is natural leather with the hair left intact. Soft and supple, hair-on hide's defining characteristic is the soft, silky hair that adds texture and depth to upholstered furniture. Each hide is one of a kind and variations in hair color, pattern and length make each piece unique.
Natural leather
Natural leather is tanned for stabilization, but it is not dyed or finished. It's left in a natural state to preserve the hide's unique characteristics, such as hair pattern and texture.
Compare Sofas by Comfort
Find your ideal sofa with the help of our Compare Sofas by Comfort guide.
Our Compare Sofas by Comfort guide divides our sofas into two groups—softer and firmer—and then arranges each group by seat depth and seat height. The descriptions below help you find which seat comfort and seat proportion is right for you. Click on any sofa for more information about dimensions, cushions and material options.
Need some guidance? Our Design Associates have firsthand knowledge of our products and would love to help you find your perfect sofa. Visit a store or contact us for expert advice.
Seat comfort
Softer sofas: Our softer sofas offer plush, enveloping comfort. Consider softer sofas if you like a relaxed, sink-in feel.
Firmer sofas: Our firmer sofas provide structured, even comfort. Consider firmer sofas if you like more resistance and support in your seating.
Seat depth
Shallow seats: Shallow seats offer an upright feel and keep shorter legs from dangling. They also help your back feel fully supported.
Deep seats: Consider a deep seat if you like to lean back at an angle or tuck your legs onto the seat cushion. If you're tall, deep seats tend to feel best.
Seat height
High seats: High seats have a height similar to a dining chair, making it easier to stand up when you're finished lounging. If you want an upright feel, consider a sofa with a high seat.
Low seats: Low seats invite you to stretch your legs out and lean back. Consider a sofa with a low seat for a more relaxed feel.
Softer Sofas





Firmer Sofas






Seat Cushion Construction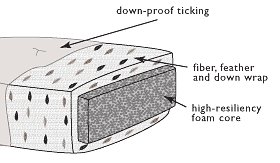 Blend down
Eco-friendly, high-resiliency foam core wrapped in fiber padding, feathers and down, encased in down-proof ticking
Offers widely-appealing, relaxed comfort
Offers a casual look
Will soften and settle with use; some feather loss is normal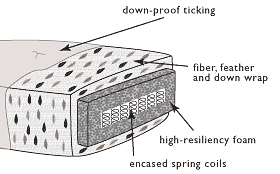 Spring and down
Encased spring coils surrounded by eco-friendly, high-resiliency foam, wrapped in fiber padding, feathers and down, encased in down-proof ticking
Offers a plush, yet supportive, sit
Allows for a relaxed look
Will soften and settle with use; some feather loss is normal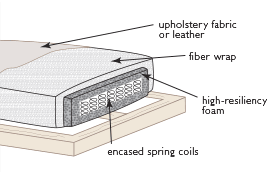 Spring and foam
Encased spring coils surrounded by eco-friendly, high-resiliency foam, topped with a layer of fiber padding
Offers a structured, supportive sit
Creates a tight, streamlined silhouette
Designed to retain its shape with minimal maintenance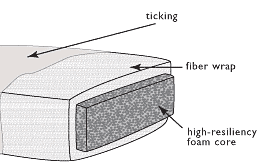 Wrapped foam
Eco-friendly, high-resiliency foam core wrapped in fiber padding, encased in ticking
Offers a structured, supportive sit
Creates a neat, tailored appearance
Will soften with use, but designed to retain its shape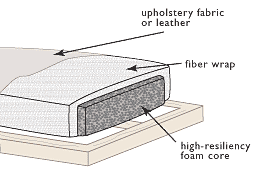 Foam and fiber
Eco-friendly, high-resiliency foam topped with a layer of fiber padding
Offers a structured, even sit
Creates a tight, streamlined silhouette
Designed to retain its shape with minimal maintenance
Frame and Suspension Construction
Frames
Made to the same high standards as all of our furniture, each one of our upholstery frames is built to last.
Kiln-dried, engineered hardwood
We use kiln-dried, engineered hardwood in all of our upholstery frames. Often used for structural beams, engineered hardwood is made by pressing thin layers of solid wood together. Kiln-drying removes moisture, minimizing seasonal expansion and contraction. This stable hardwood material resists warping and cracking for lasting durability.
Reinforced joinery
We reinforce every joint in our frames for added stability. Precision-cut parts interlock like puzzle pieces and are reinforced with eco-friendly glues, screws or staples and corner blocks. Reinforced joinery ensures your seating holds together, even with years of frequent use.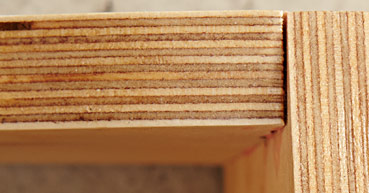 Suspensions
Selected to maximize the comfort of your seating, each of our suspension types offers excellent support.
Sinuous coil
A sinuous coil suspension consists of s-shaped metal springs that are stretched across the frame. The coils are securely attached with clips that allow the metal to flex while still remaining supportive. Because each coil is independently attached to the frame, you'll barely feel it when someone sits down next to you.
Webbing
A webbing suspension is made by interweaving strips of nylon material to create a resilient platform. The elasticized webbing is securely attached to the wood frame with staples. Webbing suspensions are ideal for thin-profile styles that require maximum support in minimal space.
Dual Flexolator
A Dual Flexolator suspension consists of a tempered steel grid attached to the frame with small springs. Each seat has its own independent steel grid, providing undisturbed comfort for each person on the sofa.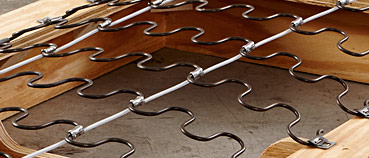 Printable Page
Upholstery Care
Keep your furniture looking its best with our upholstery cleaning and care instructions.
General Upholstery Care
Because dust and dirt cause fabric to wear faster, we recommend vacuuming regularly with an upholstery attachment.
Flip, rotate and fluff removable cushions regularly to ensure even wear and increase longevity.
Feather and down cushions have excellent recovery, but much like down comforters or pillows, need to be fluffed frequently to restore their loft. Some feather loss is normal. Vacuuming with an upholstery attachment between the fabric casings and cushions will help prevent feathers from poking through the fabric.
Tight (attached) cushions will stretch and wrinkle with use. You can easily restore their appearance by smoothing the surface and tucking excess upholstery into the sides of the seat or back.
To minimize fading, avoid placing your upholstered furniture in direct sunlight. Dark fabrics and natural fibers like cotton are most susceptible to fading.
An annual professional cleaning will keep your upholstered furniture looking its best.
How to Spot Clean Upholstery Fabric
Do not dry clean or machine wash cushion casings as it may damage the fabric, backing or stitching. For large or persistent stains, contact an in-home professional upholstery cleaning company.
For spot cleaning small stains, we recommend Folex® Instant Carpet Spot Remover or Crypton® Purple or Gold Upholstery Stain Remover, which are safe to use on all of our fabrics.
Treat stains immediately for the best results. Blot up as much of the spill as possible with a clean, dry, white cloth. Don't rub.
Apply a small amount of cleaner to the stain and gently agitate it with your fingertips. Avoid oversaturation which can damage the fabric backing or cushions.
Blot the stain with a clean, dry, white cloth, working from the outer edge to the center of the stain.
Continue to apply cleaner sparingly and blot until the stain no longer transfers onto the cloth. This may take several attempts. When you've removed as much of the stain as possible, blot any remaining cleaner from the fabric.
If your spot cleaner recommends a water rinse, apply a small amount of distilled water to the stained area and blot to remove. Tap water may stain or discolor the fabric due to its mineral content.
Use a hair dryer on the lowest heat setting to evenly dry the fabric and prevent moisture rings.
Replacement cushion casings are available. Please contact us to order.
Fabric Cleaning Codes for Professional Cleaning
In-home professional upholstery cleaning companies will request your fabric's cleaning code, available at roomandboard.com/fabrics or on the back fabric swatches. Please contact us with any cleaning code or care questions.
S = Solvent. Use only water-free, pure cleaning solvents.
W = Water. Use only water-based upholstery cleaning products.
SW = Solvent or Water. Use pure cleaning solvents or water-based cleaning products.
Slipcovers
Follow the general care and spot cleaning instructions above.
For overall cleaning, we recommend professional dry cleaning. Always clean the entire slipcover to prevent color variations and ensure even wear.
Make sure to close all zippers and fasten Velcro® before cleaning.
Leather
Dust and vacuum regularly.
To minimize fading and prevent cracking, place your leather furniture where it won't be exposed to direct sunlight.
Rotate and fluff removable cushions regularly to ensure even wear and increase longevity.
Feather and down cushions have excellent recovery, but much like down comforters or pillows, need to be fluffed more frequently to restore their loft.
Leather will naturally stretch with use, adding to its comfort and character.
For water-based spills, use distilled water and a clean white cloth. You may also use leather cleaning products. Test in an inconspicuous area first.
Do not use water to remove oil-based stains. Blot with a dry, clean, white cloth. The spot will dissipate into the leather over time.
Use a leather conditioner periodically to protect and maintain your furniture.
Cushion Maintenance
Our cushion maintenance videos show you how to freshen up your upholstered furniture and extend the life of your cushions.
Printable Page
Frequently Asked Questions
Explore these FAQs to learn more about our upholstery quality, construction details and fabric and leather options. Need more information? We're here to help. Ask a Design Associate or call us at 800.301.9720.
General questions
How long will your upholstered furniture last?
Sofas, sectionals and chairs are often the most-loved—and most-used—furniture in your house, and we know how important it is for them to stand the test of time. Our upholstered seating typically lasts seven to ten years depending on how often it's used and how it's cared for. Read our care information to learn how to extend the life of your upholstery.
Why are some of your upholstered items more expensive than others?
Many factors determine the cost of an upholstered piece of furniture: frame style, cushion type, size, fabric selection and finishing details, to name a few. While we have a range of styles and prices within our assortment, our standard of quality is unwavering.
I'm concerned about chemicals. Are your upholstered items safe?
Product safety is a priority for us. All of our furniture meets or exceeds current product safety standards, and our upholstery is free of PBDEs, fluorocarbons, chlorinated Tris and all flame retardant chemicals.
How can I be sure the sofa or sectional I want will fit into my home for delivery?
We know big items like sofas can be a tight squeeze, so most of our styles have removable legs for easier delivery. Our Measuring for Furniture Delivery Guide offers detailed measuring instructions so you can be confident your furniture will fit before you place your order.
Frames and suspensions
Why don't you offer eight-way-hand-tied suspensions in your upholstered seating?
Eight-way-hand-tied suspensions are known for their comfort, but this construction method is also very labor-intensive and costly. By taking advantage of today's innovations in suspension and cushion construction, our upholstery offers outstanding comfort and longevity at a better value.
Can I order a different leg style or size than what's shown?
We thoughtfully select legs for each piece to complement the design, provide structural support and achieve a comfortable seat height. While you can select a stain color for most wood legs, we aren't able to accommodate requests for different leg styles or sizes.
What if there is a problem with my frame or suspension?
Our reinforced hardwood frames and resilient suspensions are built to last. Although it's rare, if an issue arises from normal use, we'll fix it for you. Please call us at 800.301.9720 with any questions or concerns.
Cushions
Fabric
Which fabrics are stain resistant and easy to clean?
Micro-fiber fabrics, like micro-suede or micro-velvet, offer the best protection against stains thanks to their tightly woven construction and synthetic fiber content. Solution-dyed fabrics, like Sunbrella®, also perform well against stains. All of our fabrics can be successfully spot cleaned and professionally cleaned. Our care information provides detailed instructions on how to clean and maintain your upholstery, along with an explanation of fabric cleaning codes.
Do you offer fabric stain protection?
In general, we prefer to offer inherently stain-resistant fiber blends instead of treating our fabrics for stain protection. However, we do treat select fabrics for added stain resistance. We do not recommend applying additional stain protection to your furniture once it's in your home—it may impact how your fabric looks, feels or performs over time. Please call us at 800.301.9720 for more details.
Which fabrics are most durable?
Two factors determine fabric durability: the fiber content and the weave. While tightly woven, synthetic fibers tend to be most durable, all of our fabrics perform well in industry durability tests. We know durability is important to you, and it's a priority for us when we decide which fabrics to offer in our assortment.
Which fabrics resist fading?
Our solution-dyed fabrics offer the best protection against fading. Natural fibers in dark colors are the most prone to fading. Unfortunately, no fabric is completely fade-proof so we recommend protecting your furniture from direct sunlight.
Which fabrics resist pilling?
Chenilles and velvets naturally resist pilling thanks to their unique construction. However, all of our fabrics perform well in industry pilling tests.
Are your most expensive fabrics also the best quality fabrics?
Our most expensive fabrics often have labor-intensive weaves or luxurious natural fibers like linen or wool. As lovely as they are, these fabrics may not be practical for every application. We focus on offering high-quality fabrics within all of our Price Groups so you can confidently select the fabric that suits your needs and fits your budget.
Do you offer Customer's Own Material orders?
In order to guarantee the quality of our products, we do not offer COM orders.
Do you sell fabric by the yard?
All Room & Board fabrics are available by the yard. We also offer replacement cushion casings. Please call us at 800.301.9720 for more details.
Leather
Why would I purchase leather instead of fabric?
Leather adds character and unique beauty to your space. It also offers superior durability and longevity. Although it's a natural product that will develop a patina with age, it's incredibly resilient. Leather is a smart choice for high-traffic furniture and households with kids and pets, or if you simply want to add texture and richness to your home.
I want a leather with consistent colors and minimal markings. Which one should I choose?
Consider top-grain leathers with a semi-aniline finish. Top-grain leathers (also known as corrected leathers) tend to have fewer natural markings because the surface is buffed or sanded. Semi-aniline finishes include pigments that enhance color consistency.
I want a leather with lots of character. Which one should I choose?
Consider full top-grain leathers with a full-aniline finish. Full top-grain leathers preserve natural markings, such as scars, wrinkles and even brands. A full-aniline finish enhances the natural grain of the leather and highlights color variations. Within the leather industry, full top-grain leathers with a full-aniline finish are considered the most desirable because of their unique beauty.
Why aren't all of your designs available in leather?
You'll notice that leather furniture typically has more seams—this is due to the fixed size of the hides. If a sofa or chair requires a long span without a seam, it often isn't possible to upholster it in leather without significantly altering the look of the piece and the way it's made.
Can I order any leather on any frame?
We work with a handful of different upholstery manufacturers to build our sofas, chairs and sectionals. Each of these partners has their own leather collection. As you shop our styles, you'll be shown the leather that is pre-selected for the design and you can also custom order any leather within the collection for that manufacturer.
Does leather show scratches?
It is possible to scratch or scuff any leather. Semi-aniline finished leathers are better able to resist scratch marks because of their protective finish. However, most surface scratches can be rubbed or conditioned out of leathers with a full-aniline finish. Our free leather swatches are a great way to test out our leathers to make sure you're comfortable with how readily they show marks.
Does leather fade?
All leather will fade a bit over time. It's best to keep your leather furniture out of direct sunlight, which can cause dramatic fading, particularly on dark colors.
Does leather stain easily? How do I clean it?
Leather is naturally absorbent, but its smooth surface makes it easy to clean. If spills are a concern, consider leathers with a semi-aniline finish for added stain protection. Our care information provides instructions for how to clean and protect your leather furniture.
Why is leather furniture so much more expensive than fabric?
As a natural product with a labor-intensive finishing process, leather is much more expensive to produce than fabric. When you invest in leather furniture, you get outstanding durability and unique character that stands the test of time.