Description
Contemporary and environmentally friendly, our EcoSmart fireplaces make it safe and easy to bring an open flame to any space. Because each ventless fireplace uses bioethanol, a renewable liquid fuel that burns cleanly and efficiently, you get cozy warmth without smoke, sparks or mess.
Flames appear to float in this sleek stainless steel and glass fireplace. Nicely sized but visually light, Igloo makes a statement in any room. Intended for indoor use only.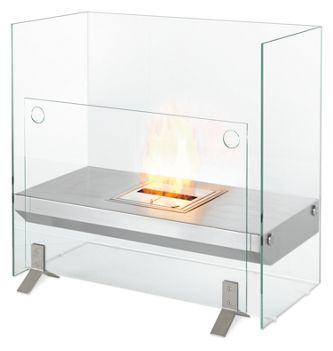 EcoSmart Igloo Fireplace with Screen
Stocked Item
$4,180.00
UPS Shipping
Ship an unlimited amount of small accessories for free. Ship one large accessory item or a piece of small furniture for $25 via UPS Ground.
Get an unlimited number of small accessories delivered for this set rate.
Delivery rate for a single large accessory item or a piece of small furniture.
Free delivery on this item.
View Options and Prices

Ask a Question
Do you have questions about this product?
We're here to help with answers from our expert Design Associates.
4 Questions | 5 Answers
Displaying questions 1-4
EcoSmart Igloo Fireplace with Screen

Q:

Does it cast off a smell? How long does it burn when the reservoir is filled?

Asked on 1/15/2014 by Pleesmith from Seattle

1 answer

A:

There is no smell whilst the EcoSmart fire is burning. There is a slight smell once the flame is extinguished – similar to when you blow out a candle. The smell will soon dissipate into the air.of your mattress for the clearance you'd end up on this bed.

In general, 1.25 gallon (or 5 quarts) of Bio Ethanol would last from 7 hours on the maximum setting and up to 20 hours on the lowest setting.

Answered on 1/16/2014 by Design Associate from Room & Board

EcoSmart Igloo Fireplace with Screen

Q:

Does it give off much heat? Is it useful for heating? I'm guessing if you can put a TV above it, maybe not so much.

Asked on 1/12/2014 by Ann from United States

2 answers

A:

The Igloo does give off enough heat to use as a heat source in a room and is designed to keep its surroundings safe.

Answered on 1/14/2014 by Design Associate from Room & Board

A:

The Igloo does give off enough heat to use as a heat source in a room and is designed to keep its surroundings safe.

Answered on 1/14/2014 by Design Associate from Room & Board

EcoSmart Igloo Fireplace with Screen

Q:

Does this fireplace have a cord/ does it need to be plugged in? Or, is it completely freestanding?

Asked on 1/1/2014 by casual from Glenview, IL

1 answer

A:

The Igloo Fireplace is completely freestanding. It uses bioethanol for fuel. There are no electrical components to this piece.

Answered on 1/2/2014 by Design Associate from Room & Board

EcoSmart Igloo Fireplace with Screen

Q:

Can you place a tv above this? if so how far apart do they have to be?

Asked on 11/14/2013 by lisa from NYC

1 answer

A:

You are able to hang a TV above the EcoSmart Igloo Fireplace. The manufacturer recommends hanging your TV as close to the wall as possible and at least 6 inches above the fireplace.

Answered on 11/15/2013 by Design Associate from Room & Board
Displaying questions 1-4