Description
Our Parsons trundle bed hosts overnight guests or serves as an over-sized storage drawer. Made from the same durable natural steel as our Parsons kids' bed, smooth-gliding casters make it easy to wheel out and stow away. Accommodates a trundle mattress only.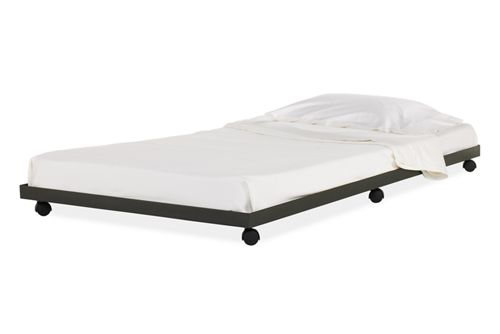 Parsons Twin Trundle Bed
Stocked Item
$399.00
UPS Shipping
Ship an unlimited amount of small accessories for free. Ship one large accessory item or a piece of small furniture for $25 via UPS Ground.
Get an unlimited number of small accessories delivered for this set rate.
Delivery rate for a single large accessory item or a piece of small furniture.
Free delivery on this item.
View Options and Prices

Read all reviews
Durable
Great design
No box spring needed
Quality construction
Customer comments about Parsons Twin Trundle Bed:
I bought this bed as a modified version of a Montessori floor bed for my child as she moves out of her co-sleeper. Being in the military my wife and I move around a lot and have a strict policy about furniture, "buy it once, buy it to last." Like everyother piece we have purchased from Room&Board this piece is sturdy and stylish and will have no problem surviving the many moves it has in its future.
I live in a:
House
This product is used in my:
Kids' room
Share this review
Ask a Question
Do you have questions about this product?
We're here to help with answers from our expert Design Associates.
12 Questions | 12 Answers
Displaying questions 1-12
Parsons Twin Trundle Bed

Q:

What is the bottom of the trundle bed made out of? Solid Steel?

Asked on 9/2/2014 by Claire from United States

1 answer

A:

The bottom of the Parsons trundle is a solid sheet of metal.

Answered on 9/3/2014 by Design Associate from Room & Board

Parsons Twin Trundle Bed

Q:

What is the weight of the trundle frame and the trundle mattress? We are thinking of storing them under beds, then moving them to another room when they're used ... wondering how difficult it would be to turn them on their side to move them thru a doorframe.

Asked on 5/27/2014 by Jean

1 answer

A:

The weight of the Parsons Twin Trundle bed is 60lbs. and the Trundle mattress is 14 lbs.

Answered on 6/3/2014 by Design Associate from Room & Board

Parsons Twin Trundle Bed

Q:

Will this trundle work under the full bed of the fort duo bunk bed? Is there a trundle available to coordinate with the fort duo bunk?

Asked on 12/22/2013 by Alura from San francisco

1 answer

A:

Our Parsons Trundle will fit under our Fort Duo Bunk.

Answered on 12/23/2013 by Design Associate from Room & Board

Parsons Twin Trundle Bed

Q:

What do you consider the weight of an average adult to be? Do you have a max weight limit on the trundle?

Asked on 11/24/2013 by Sue from Denver, CO

1 answer

A:

The weight limit on our Parsons Twin Trundle Bed is approximately 200-225 pounds.

Answered on 11/26/2013 by Design Associate from Room & Board

Parsons Twin Trundle Bed

Q:

Will the Parson twin trundle fit under a Webster twin bed? Thanks.

Asked on 10/30/2013 by Furniture shopper from Bay Area

1 answer

Parsons Twin Trundle Bed

Q:

Is this the correct trundle for the Fort Duo bunk bed?

Asked on 10/17/2013 by Maya from Oakland, CA

1 answer

A:

The Parsons trundle is the same material, natural steel, as the Fort Duo bunk. The Parsons trundle will fit underneath the Fort Duo and pair well. If you have additional questions, please contact our Design Associates at 800-301-9720.

Answered on 10/18/2013 by Design Associate from Room & Board

Parsons Twin Trundle Bed

Q:

We want to buy a Macintosh queen high bed and put a trundle underneath it. Does the trundle come in other sizes that would dovetail with a queen size bed?

Asked on 9/24/2013 by K from Lake Forest, IL

1 answer

A:

The Parsons trundle bed is only available in one size, 40w 73d 5h. If you have other questions, please contact our Design Associates at 800.301.9720.

Answered on 9/25/2013 by Design Associate from Room & Board

Parsons Twin Trundle Bed

Q:

Will a twin size spring mattress work on this frame?

Asked on 9/23/2013 by I don't have one.

1 answer

A:

No, the Parsons trundle requires a mattress smaller than a standard twin. The trundle mattress needs to measure 39w 72d 5h and you can see details here:

http://www.roomandboard.com/rnb/product/detail.do?productGroup=19753.

If you have other questions, feel free to contact any of our Design Associate at 800.301.9720.

Answered on 9/24/2013 by Design Associate from Room & Board

Parsons Twin Trundle Bed

Q:

Does this price include the mattress along with the frame?

Asked on 8/7/2013 by Lisa from Irvine, CA

1 answer

Parsons Twin Trundle Bed

Q:

Will this trundle fit under the Piper bed?

Asked on 6/23/2013 by JJB

1 answer

A:

Yes, with a standard 5" trundle mattress the Parsons Trundle can be used with the Piper bed.

Answered on 6/24/2013 by Design Associate from Room & Board

Parsons Twin Trundle Bed

Q:

What is the height of the trundle when a standard 5 inch trundle mattress is on it? I have 8 inches of under bed clearance and need to know if it will fit.

Asked on 6/22/2013 by Kristen from Dallas

1 answer

A:

The trundle with a 5"h trundle mattress is 71/2"h.

Answered on 6/22/2013 by Design Associate from Room & Board

Parsons Twin Trundle Bed

Q:

What are the weight limits on this bed, ie can an adult sleep on it?

Asked on 6/15/2013 by Elaine from Los angeles

1 answer

A:

The Parsons twin trundle bed will hold the weight of an average adult.

Answered on 6/16/2013 by Design Associate from Room & Board
Displaying questions 1-12