Description
Add a guardrail to the Bower kids' loft bed. Hand-welded from natural steel, the guardrail can be installed on either side.
Safety Certification
A third-party testing lab has certified that this bunk meets all applicable current Federal Regulations and ASTM standards.
Mattress Guide
Everything you need to find your perfect night's sleep.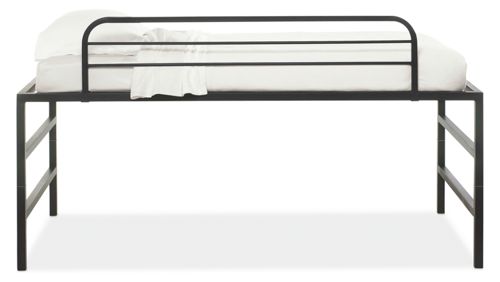 Bower
Stocked Item
$120.00
UPS Shipping
Ship an unlimited amount of small accessories for free. Ship one large accessory item or a piece of small furniture for $25 via UPS Ground.
Get an unlimited number of small accessories delivered for this set rate.
Delivery rate for a single large accessory item or a piece of small furniture.
Free delivery on this item.
View Options and Prices

Read all reviews
Customer comments about Bower 3/4 Guardrail:
Rails look good and are easy to attach but the welds at the joints where they attach to the bed are thin and weak. Regular wear and tear of play time, up and out of bed, and the leaning over the edge to talk to his sibling with the weight of only up to a 40lb kid. We have had 2 guardrails snap. This is a design flaw. We have had the beds 3 year and on 3rd guardrail.
I live in a:
House
This product is used in my:
Kids' room
Share this review
Durable
Easier to make than bunk
Great design
No box spring needed
Practical
Quality construction
Customer comments about Bower 3/4 Guardrail:
Strongly recommend delivery for this bed-- it is solid and heavy and due to its size can be challenging for placing in the room ... The room and board customer service rep explained how important measuring the size of door and out-of-room hallway space we had prior to delivery which was absolutely necessary (and appreciated) as we were unable to get the bed in the room ourselves due to its size/construction despite that we have a large hallway to accommodate.

Share this review
Durable
Great design
Quality construction
Customer comments about Bower 1/2 Guardrail:
We love our loft bed for our two boys. They share a small bedroom so this bed sits nicely without being overbearing like bunk beds. We tried going without the rail for a while because it seemed unnecesary but he fell our a couple times...on his brother. Since installed it gives us all peace of mind and limits excessive jumping. Bunk beds are hard to make look nice anyway, especially when they are just slats beneath the mattress but the guardrail does complicate bedding even more but it's in the name of safety.
Service and delivery comments:
We had trouble with the bed delivery. The drivers didn't think through how they were going to move this heavy and awkward piece and I ended up managing them and cleaning up the mess they left. The bed rail was shipped separately. R & B was able to send via UPS which saved on shipping but it took many phone calls to get that to work (even though I was told initially it would) then it was delivered to the wrong address. Luckily the recipients called us and I was able to go pick it up.
Share this review
Ask a Question
Do you have questions about this product?
We're here to help with answers from our expert Design Associates.
2 Questions | 2 Answers
Displaying questions 1-2
Bower 3/4 Guardrail

Q:

Can these rails be used with the twin parsons bed? If not, do you have any recommendations for what kind of bed rails to use on the parsons bed?

Asked on 2/2/2014 by Parent of a toddler

1 answer

A:

We do not currently have any guard rails that work on the Parsons bed. However, we do have the new Fort twin bed that can use the guard rails on the Fort bunk beds.

Answered on 2/3/2014 by Design Associate from Room & Board

Bower 3/4 Guardrail

Q:

Can this guardrail be installed on the lower bunk as well?

Asked on 10/5/2013 by Abby

1 answer

A:

Yes, you can install a guard rail on the lower bed as well.

Answered on 10/8/2013 by Design Associate from Room & Board
Displaying questions 1-2