Description
Loft beds are functional, stylish and, let's face it, cool. The Lark loft bunk is made from durable natural steel, hand-welded for durability and strength. Cleverly designed with a ladder integrated into each end, this loft also features a built-in desk.
Safety Certification
A third-party testing lab has certified that this loft bunk meets all applicable current Federal Regulations and ASTM standards. CPSC Conformity Certification
Mattress Guide
Everything you need to find your perfect night's sleep.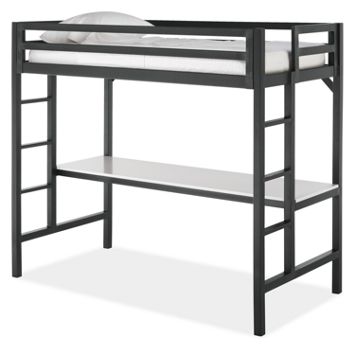 Lark Loft Bed
Stocked Item
$1,799.00
UPS Shipping
Ship an unlimited amount of small accessories for free. Ship one large accessory item or a piece of small furniture for $25 via UPS Ground.
Get an unlimited number of small accessories delivered for this set rate.
Delivery rate for a single large accessory item or a piece of small furniture.
Free delivery on this item.
View Options and Prices


Suggested Pairings

Similar
Styles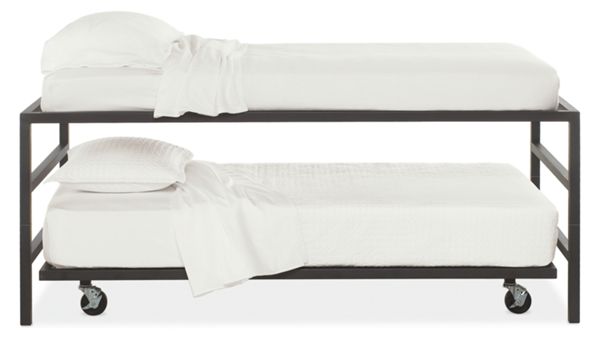 $599 - $1,299
$1,499 - $1,599
$2,199 - $4,199
Read all reviews
Durable
Great design
No box spring needed
Quality construction
Customer comments about Lark Loft Bed:
This bed solved the problem of how to fit a full size desk in my 13 year old son's small Chicago bedroom. Initially it squeaked, however R & B sent the installers back and they were able to solve the problem by hammering the fitted pieces together with a rubber mallet. It still wobbles just a little---my son doesn't mind--but it is completely silent. No squeaking. It's really well-made and looks terrific. My younger son wants one for his room now!
This product is used in my:
Kids' room
Share this review
Ask a Question
Do you have questions about this product?
We're here to help with answers from our expert Design Associates.
12 Questions | 12 Answers
Displaying questions 1-12
Lark Loft Bed

Q:

Does the Lark Loft require a normal twin mattress or a twin extra long?

Asked on 8/5/2014 by Lynn

1 answer

A:

For all of our loft beds, we recommend a twin mattress measuring 39w 75d and no more than 6 inches thick.

Answered on 8/6/2014 by Design Associate from Room & Board

Lark Loft Bed

Q:

Once assembled, can it be broken down and easily re-assembled? In case we have a move ahead of us?

Asked on 5/18/2014 by Rkw24 from Bklyn NY

1 answer

Lark Loft Bed

Q:

What is the height of the platform the mattress sits on? I am concerned about headroom when sitting up in the bed.

Asked on 4/28/2014 by Joe from Dallas, TX

1 answer

A:

The measurement from the floor to the bottom of the mattress for the Lark loft bed is 60 inches.

Answered on 4/29/2014 by Design Associate from Room & Board

Lark Loft Bed

Q:

I understand that the desk must be purchased with the bed. But does it have to be installed? If we don't install the desk, will it affect the stability of the loft bed?

Asked on 1/3/2014 by Missy FUS

1 answer

A:

The desk should be installed as part of the whole bed. It is designed to be part of the frame and does contribute to the overall stability.

Answered on 1/6/2014 by Design Associate from Room & Board

Lark Loft Bed

Q:

Is it possible to not install the desk when assembling the loft bed?

Asked on 12/28/2013 by NYCMom

1 answer

A:

You may order the Moda Twin Bed, the Moda Bookcase Bench, and the Moda Trundle separately to achieve the configuration you choose.

Answered on 12/30/2013 by Design Associate from Room & Board

Lark Loft Bed

Asked on 11/15/2013 by janie

1 answer

A:

Considering the guardrails the loft area for the Lark Loft Bed is 80w, 41d, 12h.

Answered on 11/26/2013 by Design Associate from Room & Board

Lark Loft Bed

Q:

Is it possible to get the Lark bed without the desk, and at what price?

Asked on 9/19/2013 by none

1 answer

A:

No, it is not possible to order the Lark Loft without the desk.

Answered on 9/19/2013 by Design Associate from Room & Board

Lark Loft Bed

Q:

will this bed work in a room with 8 foot ceilings?

Asked on 9/13/2013 by mary lee

1 answer

A:

Yes, you could use this bed if you have 8 foot ceilings.

Answered on 9/14/2013 by Design Associate from Room & Board

Lark Loft Bed

Q:

what is the maximum weight for sleeping in this bunk bed?

Asked on 7/3/2013 by MountainCoyote from Highlands Ranch, CO

1 answer

A:

The Lark Loft bed is constructed of heavy duty welded steel. It will easily hold the weight of an average size child or adult.

Answered on 7/3/2013 by Design Associate from Room & Board

Lark Loft Bed

Q:

How much of it is assembled after arrival? Would love to order this for my daughter's room but there is a tricky sharp turn from the hallway into her room. As a matter of reference: In 2004, I purchased the twin platform bed, item #922222, for my sons' room and the twin-size platform piece could not make the sharp turn from the hallway into what is now our daughter's room. How do I determine if I can get the Lark Loft bed into my daughter's room?

Asked on 6/23/2013 by Mom in SE Michigan from Ann Arbor, MI

1 answer

A:

It sounds like the Lark will be a challenge for you as well. The side or ends of the loft bed are one fully welded piece at 71"h and the twin platform is one piece as well. It seems possible to keep the uprights vertical and fit it through the doorway but it must be the stairs that prohibit this.

All of our loft beds have end panels the full height of the frame. A bunk bed, such as the Moda, is put together with two twin beds so you have smaller components but of course, you don't get that great desk surface.

Answered on 6/23/2013 by Design Associate from Room & Board

Lark Loft Bed

Q:

What is the distance from the top of the desktop to the bottom of the bed frame?

Asked on 6/23/2013 by Moving_in_July from Minneapolis, MN

1 answer

A:

From the floor to the underside of the bed is 57"h on the Lark loft bed. The desk is at standard height of 29" so the difference is 28". Our lofts have nice space below the bed and make great solutions for most anyone and not just young children. Let us know if you need further details.

Answered on 6/23/2013 by Design Associate from Room & Board

Lark Loft Bed

Q:

Is the left-right configuration for the lark bed reversible? e.g. can you put the ladder access on the left (opposite to what is shown)? Thank you!

Asked on 6/6/2013 by e

1 answer

A:

Yes, you can choose the opening above the ladder to be on the left or right side. This can be specified during assembly in your home.

Answered on 6/7/2013 by Design Associate from Room & Board
Displaying questions 1-12