Description
Create a striking array of Nelson pendant lights with our Triple Pendant Lamp fixture. This piece allows you to group your Nelson Pendants at varying heights for a pendant that's perfect for dining rooms, entryways or anywhere you want to showcase these iconic lamps.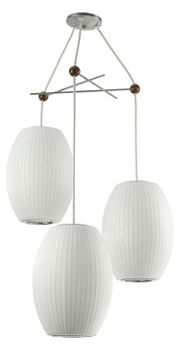 Nelson Triple Bubble Lamp Fixture
Stocked Item
$195.00
UPS Shipping
Ship an unlimited amount of small accessories for free. Ship one large accessory item or a piece of small furniture for $25 via UPS Ground.
Get an unlimited number of small accessories delivered for this set rate.
Delivery rate for a single large accessory item or a piece of small furniture.
Free delivery on this item.
View Options and Prices

Read all reviews
Adequate light output
Easy to change bulb
Great design
Ambiance
Decoration
Primary light source
Customer comments about Nelson Triple Bubble Lamp Fixture:
I bought this along with three of the Cigar Pendants in size medium. It looks amazing! However, I gave it four stars instead of five because my electrician had difficulty getting the cables through the holes of the three wooden balls. The cables were too wide for the holes. I called customer service to discuss, and they connected me to a store where this fixture was installed. While everyone was very nice on the phone, they didn't have a solution other than to have my electrician do what he wanted to do which was to drill into the holes to make them wider to accommodate the cables. The electrician was concerned about breaking the wooden balls, but customer service assured me that if this did occur then they would replace them. Luckily the electrician was successful, the light was installed, and everything looks fabulous!
I live in a:
Apartment/condo
This product is used in my:
Primary bedroom
Share this review
Ask a Question
Do you have questions about this product?
We're here to help with answers from our expert Design Associates.
5 Questions | 5 Answers
Displaying questions 1-5
Nelson Triple Bubble Lamp Fixture

Q:

I have 20 ft ceilings can this fixture be purchased with a longer cords or? I believe it has a 6 inch cord..

Thank you

Asked on 2/11/2014 by Cathy

1 answer

A:

You may purchase extra cord for all of the Nelson pendants. However, your electrician will need to re-wire the fixtures with the longer cord. The pendants come standard with 6 foot cords.

Answered on 2/12/2014 by Design Associate from Room & Board

Nelson Triple Bubble Lamp Fixture

Q:

If I use the proper bulbs, can this fixture be dimmable?

Asked on 10/15/2013 by x

1 answer

A:

The Nelson Triple Bubble Lamp Fixture can be dimmable with incandescent bulbs and an external wall dimmer.

Answered on 10/15/2013 by Design Associate from Room & Board

Nelson Triple Bubble Lamp Fixture

Q:

Can you mix different styles of shades, or do they all have to be identical?

Asked on 7/14/2013 by Tom White from New Mexico

1 answer

Nelson Triple Bubble Lamp Fixture

Q:

Purchased a Nelson Triple bubble from you a few months back and would like to replace the incandescent lights it came with to CF or LED. Can you recommend a bulb that will function properly in your fixture?

Thanks

Asked on 6/14/2013 by Edward from Carrollton, Georgia

1 answer

A:

As long as the socket size is the same as the incandescent bulb you are using, you should be good to go. Searching online for "Replacing 150W/120V incandescent bulb with CFL or LED" will yield a plethora of results and options.

Answered on 6/14/2013 by Design Associate from Room & Board

Nelson Triple Bubble Lamp Fixture

Q:

What wattage of bulbs does this take? You should have this listed in the information section, but there's nothing there on this.

Asked on 5/25/2013 by gab

1 answer
Displaying questions 1-5