Description
Light up your home with the simple lines of this pendant made exclusively for us in the United States. Choose from round or rectangular shades that provide a diffused glow.
5"x17" ceiling plate in satin nickel finish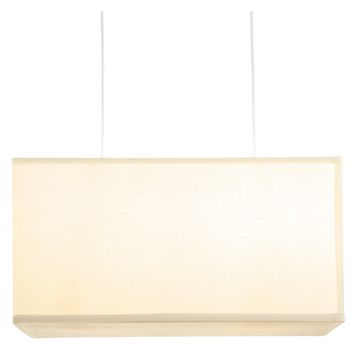 Studio
Stocked Item
$229.00
UPS Shipping
Ship an unlimited amount of small accessories for free. Ship one large accessory item or a piece of small furniture for $25 via UPS Ground.
Get an unlimited number of small accessories delivered for this set rate.
Delivery rate for a single large accessory item or a piece of small furniture.
Free delivery on this item.
View Options and Prices

Read all reviews
Adequate light output
Affordable
Easy to install
Great design
Ambiance
Decoration
Over dining table
Primary light source
Customer comments about Studio Rectangle Pendant:
I looked for 7 months for a rectangular drum shade that was both affordable and had a great light output. This one is perfect! It's on a dimmer which makes it excellent for dinner parties, but with 2 100 watt bulbs, I can easily dial it up for sewing and projects at the table.
I live in a:
Apartment/condo
This product is used in my:
Dining area
Share this review
Ask a Question
Do you have questions about this product?
We're here to help with answers from our expert Design Associates.
8 Questions | 8 Answers
Displaying questions 1-8
Studio Rectangle Pendant

Q:

My ceiling is 11'-6". How long are the cords that are part of the product?

Asked on 5/19/2014 by Jim from Washington, DC

1 answer

A:

The cords are 10 feet long.

Answered on 5/20/2014 by Design Associate from Room & Board

Studio Rectangle Pendant

Q:

How is this light mounted to the ceiling? Does it use a single, standard (round/octagonal), electrical box?

Asked on 5/12/2014 by Torrance from Los Angeles, CA

1 answer

A:

The Studio Rectangular Pendant includes a rectangular ceiling canopy. The two cords provided would be hard wired into a single junction box.

Answered on 5/14/2014 by Design Associate from Room & Board

Studio Rectangle Pendant

Q:

Can the light be hung from a track (track lighting) instead of the ceiling plate or can the plate be fixed onto the track?

Asked on 3/2/2014 by Peyton from Seattle

1 answer

A:

The pendant is designed to be hard wired. A professional electrician may be able to adapt the wiring to a track system for you.

Answered on 3/3/2014 by Design Associate from Room & Board

Studio Rectangle Pendant

Q:

What is the width of the mounting bracket. I will be hanging it off a beam Also, what is the fabric made of?

Asked on 1/14/2014 by Gorgeous from LaVerne CA

1 answer

A:

The mounting bracket measures 17" wide x 5" deep. The fabric on the shade is 100% linen.

Answered on 1/15/2014 by Design Associate from Room & Board

Studio Rectangle Pendant

Q:

Does this fixture have a cord that plugs into a wall outlet, or is it direct-wired?

Asked on 1/5/2014 by Gale from San Francisco

1 answer

A:

The Studio pendant is designed to be hard-wired.

Answered on 1/7/2014 by Design Associate from Room & Board

Studio Rectangle Pendant

Q:

is it possible to mount this fixture on a slanted ceiling? in other words, are the cords adjustable?

Asked on 11/3/2013 by Rae from Ann Arbor MI

1 answer

A:

Yes. The cord lengths are adjustable.

Answered on 11/4/2013 by Design Associate from Room & Board

Studio Rectangle Pendant

Q:

Hello- I am interested in the Studio Rectangular Pendant. I can see in the picture that the pendant hangs from two separate pieces- are these fabric, cords, - what are they made of? Also, would the electrical cord visibly hang between the ceiling and the pendant?

Thank-you.

Andrea LYnch

Asked on 8/26/2013 by Modern Home Reno from Vancouver, BC

1 answer

A:

The studio pendant hangs from two white, plastic cords. These cords hold the wires that light the fixture.

Answered on 8/28/2013 by Design Associate from Room & Board

Studio Rectangle Pendant

Q:

Does this rectangular pendant have a "diffuser" on the underside?

Asked on 8/23/2013 by TJ from VA

1 answer

A:

The Studio Rectangular Pendant has a diffuser on the underside made of the same fabric as the shade.

Answered on 8/23/2013 by Design Associate from Room & Board
Displaying questions 1-8