Description
Our Anywhere Armoires offer functional and attractive storage for entryways, bedrooms, dining rooms and living spaces.
With mid-century details like turned tapered legs and beveled edges, Grove has an air of refinement while still feeling modern and fresh. The Grove Anywhere Armoire conceals clutter behind space-saving sliding doors, and is handcrafted in the U.S. from domestic solid wood and high-quality wood veneers.
Who Makes This?
Learn about the artisans: Spectra in Pennsylvania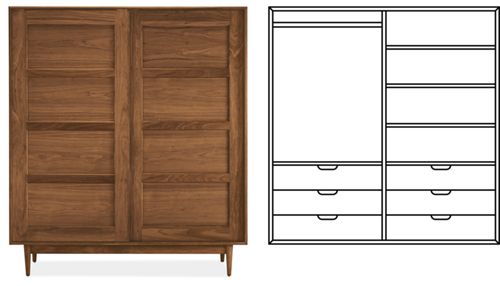 Grove
Stocked Item
$3,799.00
UPS Shipping
Ship an unlimited amount of small accessories for free. Ship one large accessory item or a piece of small furniture for $25 via UPS Ground.
Get an unlimited number of small accessories delivered for this set rate.
Delivery rate for a single large accessory item or a piece of small furniture.
Free delivery on this item.
View Options and Prices


Suggested Pairings

Similar
Styles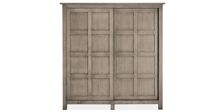 $2,399 - $2,899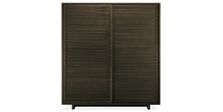 $3,499 - $5,399
Read all reviews
Cheap
Doors Hard To Slide
Drawers/doors stick
Incredibly Cheap Drawers
Poor finish
Poor quality
Customer comments about Grove Anywhere Armoire with Short Wardrobe & 6 Drawers:
After purchasing two Delia chairs, a Bradshaw cocktail table, a Holden sectional and two Woodwinds cabinets for media, I cannot express the dissatisfaction with this new armoire.

Firstly, I got this to store hanging shirts. This is a poor model for that purpose. The depth is not conducive for mens shirts. Whenever I closed the door, they would all slide to the left and one of the sleeves would inevitably hang out. Frustrating.

Secondly, the doors are a pain to slide. The initial install people did a lousy job. There is this plastic piece that is supposed to lift up the doors to make it easier to slide, but they accomplish little. Then one of them broke off. Sigh.

Thirdly there is the construction of the drawers. Absolutely terrible. When you close them, they bounce out, because there is no catch. Then there are the tracks themselves. IKEA doesn't sell stuff this cheap. One of them broke three weeks in. Had R&B out to fix that and the sliding door piece. Then, three days later, ANOTHER drawer track broke. Called R&B to return this armoire.

Very disappointed in this new product. Shouldn't sell this for more than $1250.

Pictures below of two tracks. One from the Armoire, the other from the Woodwind media stand. Take a guess which is which.
I live in a:
House
This product is used in my:
Primary bedroom
Share this review
Ask a Question
Do you have questions about this product?
We're here to help with answers from our expert Design Associates.
5 Questions | 5 Answers
Displaying questions 1-5
Grove Anywhere Armoire with Double Open Shelves

Q:

Are the shelves adjustable?

Asked on 4/25/2014 by Constantly Redesigning from Los Angeles

1 answer

A:

Four of the wood shelves are fixed; the other six would be adjustable.

Answered on 4/28/2014 by Design Associate from Room & Board

Grove Anywhere Armoire with 6 Drawers

Q:

Can you tell me if this piece is made with solid walnut? Does is have any veneers?

Asked on 1/30/2014 by Z from Edmond,OK

1 answer

A:

The Grove is made with both solid walnut and walnut wood veneers. Veneers are used for the back and outside front panels, for instance, while solid walnut is used for nearly everything else on the piece.

Answered on 1/31/2014 by Design Associate from Room & Board

Grove Anywhere Armoire with Double Short Wardrobes & 6 Drawers

Q:

Does the armoire arrive in one piece or is it put together?

Asked on 1/29/2014 by SF from San Francisco

1 answer

A:

The armoire arrives at our warehouse fully built. Any adjustable shelves or hanging bars are packed separately and installed during delivery.

Answered on 1/31/2014 by Design Associate from Room & Board

Grove Anywhere Armoire with Short Wardrobe & 6 Drawers

Q:

Can you tell me the dimensions of the drawers in this armoire?

Asked on 1/11/2014 by Deb from Denver, co

1 answer

A:

The interior of each drawer is 26.75"w x 16"d x 4.5"h.

Answered on 1/14/2014 by Design Associate from Room & Board

Grove Anywhere Armoire with Long Wardrobe & 1 Drawer

Q:

How is the back of this piece finished? Is it finished so it could be used away from the wall as a room divider?

Asked on 1/11/2014 by Home Improvement Maven

1 answer

A:

The Grove Anywhere armoire does not have a finished back.

Answered on 1/13/2014 by Design Associate from Room & Board
Displaying questions 1-5