Description
The Boden ottoman pairs beautifully with the Boden chair—together they offer the perfect place to stretch out and lounge.
Who Makes This?
Learn about the artisans: Precedent of North Carolina
Any Fabric Any Frame
Choose from more than 300 fabrics available for custom orders. Start designing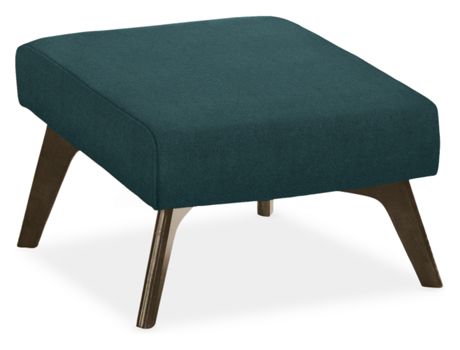 Boden
Stocked Item
$599.00
UPS Shipping
Ship an unlimited amount of small accessories for free. Ship one large accessory item or a piece of small furniture for $25 via UPS Ground.
Get an unlimited number of small accessories delivered for this set rate.
Delivery rate for a single large accessory item or a piece of small furniture.
Free delivery on this item.
View Options and Prices

Read all reviews
Informal
Large spaces
Lounging
Watching TV
Customer comments about Boden 22x22" Ottoman:
Like the other reviewer said, I'm not sure why you would buy this for any other reason than as an accessory to the Boden chair, but in that function it works quite well.

The Boden chair is a large piece of furniture and adding this ottoman makes it only that much bigger, so make sure you have the space. I have two Boden chairs and one ottoman in a large, great room style living space and those three pieces combined command quite a presence.

The ottoman seems to be made as well as the chair. My only negative so far is that the fabric seems to bunch and wrinkle easily on the ottoman, which does not happen with the chair. If someone sits on the ottoman or a child stands on it, anything more than just your leg weight really, the fabric seems to bunch up and not immediately spring back to its former shape. It may be the cushion or it might be the fabric. Either way it happens and it makes the chair look kind of messy and used, or old.

All in all, a great accessory to the Boden chair. The chair is super comfy without the ottoman, but with it it's even more comfortable.
I live in a:
House
This product is used in my:
Living room/family room/great room
Share this review
Comfortable fabric
Comfortable sit
Cushions hold shape
Great design
Well made
Accent
Large spaces
Lounging
Customer comments about Boden 22x22" Ottoman:
I wouldn't buy this as a standalone (too expensive and not enough independent character), but with the matching Boden chair, it looks fantastic and functions well.
I live in a:
House
This product is used in my:
Primary bedroom
Share this review