Comments:
Awesome standup desk
Comments:
This table is definitely an investment, but well worth the price. Great design, very sturdy, and mechanism that works the up and down motion is easy to use and durable. Table raises to height above typical bar height, which is useful for "close work" while standing, or laying newspaper down for reading, without bending neck or back. Couldn't be happier with this product!
Comments:
I've a tiny condo, so the 48x30 desk is used as a computer desk / workspace to separate my dining area from my living area. I can now stand (if I want to) at home after sitting all day at work, all while easily seeing either the TV or the fireplace. The air pressure adjustments to float the desk up and down are quite useful too so it doesn't fly upward nor is too hard to push down. The cherry wood is beautiful and nearly matches my gorgeous, light-aged cherry bookcases I purchased a few years ago. My only disappointments are for the manufacturer: (1) the first desk was missing parts, (2) the second desk had holes underneath for assembly purposes that should've been sanded smooth when they were no longer needed, and (3) on the second desk the float trigger switch was poorly placed causing the desk to mostly not float (the delivery guys fixed this). Despite those initial issues R&B made sure all was right, the desk does float smoothly, is easy to wipe clean, and I love to use it!
Comments:
I've been looking for something like this for over three years and when I saw it at the Room and Board showroom, it was just a matter of time until I ordered my very own. The different sizes are fantastic. I got a 48" and a friend got the 60"..it really just depends on the size of your space and how much you need on your desk. For me, the smaller size was still a larger space than my previous desk. It is a BEAUTIFUL solid wood desktop and the desk itself has a modern look that also blends well in my more traditional decor. I got the steel grey legs. The best part though, is the absolute ease of raising and lowering the desk. It's simple to do, you can do it one handed and I move it several times in the course of my day. It's a lifesaver for my back and I couldn't be happier.
Comments:
Great desk; was excited to buy from R&B for the custom top. The Solid Maple with Charcoal Stain is pretty, but nicks EXTREMELY easily. I was completely surprised by the underside of the desk surface - there are a LOT of extra holes that go almost to the desktop itself (I understand the top is used for different pieces of furniture, but this is a bit much). Also, I expected the underside of the desk to look like the top, but it has jagged drill holes and knots. very disappointed in the desktop.
Comments:
I love the versatility of this desk! I am a writer and used to spend most of my days staring at a computer and sitting. Colleagues of mine have touted the benefits of standing while working (posture, circulation, alertness, health, etc) and I'm embracing. I stand most of the time but if I need or want to sit the desk adjusts with a simple touch. It was much more than I wanted to spend but I looked at it as an investment. So I bit the bullet. I love it!
Comments:
It's a fantastic design by Humanscale. I chose the standard 60x30 maple top. The bottom side of the maple top has what seems to be handling holes and they were left ragged. On top of that, there is a dirt spot on the bottom side that was clear coat finished over. Then on top of that, the lift control was installed crooked. I still love the desk but the sloppiness wasn't expected (especially at this price).
Comments:
This is a great desk and is an excellent alternative to electric sit-stand desks. Because it doesn't rely on an electric motor, it's smooth, silent and fast. However, one downside is that you won't be able to set your sit and stand settings like an electric desk. I think the tradeoffs are worth it. My issue is around when you need servicing from Humanscale (which hopefully will never happen). I scheduled two appointments and both times the technician failed to arrive and failed to notify me that they wouldn't be coming. This after already paying the repair fee.
Comments:
Unfinished product: had to sand and finish the desktop myself. Delivered with a thin blotched charcoal stain. I had to take very fine sandpaper, "break" the surface a bit, and then put my own charcoal stain on. For the cost of this beast, you'd think Humanscale would give you a completed and professional product. R&B's Denver retail location, where I bought it, were disinterested. They couldn't be bothered with even looking at the pictures I took into their retail store much less documenting it. At this price point, I expect not only a finished product but a retailer that showed concern and collect the feedback for its supplier. I like the product otherwise. Great concept that works … I can sit part of my workday and stand for part of it; that I like. Works as advertised. The pneumatic mechanism is smooth and easy to operate. On this basis I gave it a favorable rating. I share the other comments about the hole on the bottom and the rough cut underneath. Again, awful fit and finish for this price point. I expect stuff like this from the box retailers, not R&B.
Comments:
Updating my review from April 15, 2014. I was contacted by R&B after posting my review of Apr 14 - they wanted to make me happy by offering a full refund, or a replacement desk, or a replacement top. As I did like the desk, I decided to keep the base and choose a different top. I went with a larger top - the standard 60x30 maple top (I'd previously purchased the 48 x 30 Solid Maple with Charcoal Stain). Again, the transaction was smooth, and I was amazed at the professionalism and follow-through of R&B Design Associate Sherri Klopfer. What an incredible asset R&B has in her as an employee! Now I can truly say that I LOVE my desk. There are holes on the bottom of the new desk top, but they are fewer in number than the old one. The maple desk top itself is beautiful, and unlike the charcoal stained top, seems durable and not so fragile. Thank you, Room & Board (and Humanscale)!!
Float Adjustable Height Desks

Current Selections
$2,519.00
Float® 60w 30d 27-47h Desk
Top: Walnut
Base: Silver
Returns & Guarantee
Float
Made by Humanscale®, this height-adjustable modern desk lets you easily alternate between sitting and standing throughout your workday. A unique counterbalanced mechanism allows the desktop to smoothly "float" up or down when you engage the one-handed release lever. The desk moves quickly and quietly without electric motors or cranks. The tension is adjustable to accommodate the weight of items placed on the surface. With clean lines and an array of top and base options, this ergonomic and health-conscious desk complements any work environment.

We partner with artisans and workshops across the country
Details of Float® 60w 30d 27-47h Desk
Dimensions: 60"w 30"d 27-47"h
Space Between Legs: 51"w
Leg Thickness: 2.75"w
Features: sit or stand functionality, counterbalanced mechanism for easy adjustment; one-handed release lever
Considerations: 50lb maximum for items placed on desktop; adjustable tension accommodates varying weight
Top Origin: all tops sourced domestically
Product Origin: made in New Jersey
Item Number: 108547
Top: walnut See full material details
Finish: lacquer
Material Description: Walnut adds timeless depth and character to your room. Even after walnut is harvested and made into furniture, it continues to be a living, breathing material that responds to its environment - it expands and contracts with changes in humidity and also changes color over time as it's exposed to air, sunlight and wear. New walnut starts as a dark chocolate brown and beautifully ages to lighter brown or honey color over time.

Base: steel See full material details
Finish: powder-coat
Color: silver
Material Description: Steel is exceptionally durable and eco-friendly thanks to its ability to be made from recycled material and then recycled again at the end of the products life. Artisans hand-craft the steel using innovative technology and age-old techniques to shape the steel into pieces of almost any shape and size.
Product Care
Helpful Links
Customer Reviews

Good surface area (21)
Great design (21)
Quality construction (18)
Durable finish (12)
Poor finish (4)
Poor quality (3)
Desktop computer (15)
Writing desk (14)
Smaller offices (13)
Laptop / office (11)
Craft table (7)
Reviewer Profile:
Modern/contemporary (16), Survivalist / minimalist (11), Eclectic (6), Mid-century modern (5), Classic/traditional (3)
Durable finish
Good Surface Area
Great design
Quality construction
Customer comments about Float® 60w 30d 27-47h Desk:
I love this desk. It easily and quietly can be adjusted, allowing me to sit or stand at work. It is also nicely sized, so that I have plenty of space for two monitors and lots of papers. I got the cherry top with black legs and it looks very nice in my law office. I have owned the desk for over two years now and it still looks and operates like it did the first day (though the natural cherry is continuing to darken to a lovely color).
Service and delivery comments:
Delivery was a breeze. They brought it up a flight of stairs, assembled, and positioned it exactly as I requested. Excellent service.
This product is used in my:
Business Office
Durable finish
Good Surface Area
Great design
Quality construction
Desktop computer
Laptop
Smaller Offices
Writing desk
Customer comments about Float® 60w 30d 27-47h Desk:
Great desk as it adjusts up and down. It's not as fluid as I would like (takes a bit of effort to make it go up and down.) Love the finish and it's very solid.
Service and delivery comments:
Great delivery men - on time and so nice. The desk was not assembled correctly upon delivery, so the guys took it apart and fixed it so I didn't have to call and make an appointment to have someone else come out.
I live in a:
House
This product is used in my:
Home office
Desktop computer
Smaller Offices
Customer comments about Float® 60w 30d 27-47h Desk:
The table easily moves up and down, even with 2 heavy computer monitors on top. It's so nice to be able to shift between sitting and standing during the work day. But .... within 2 weeks, the cherry tabletop already had very distinctive discoloration marks between the areas covered by my computer equipment and those that were not. TWO WEEKS and it already looks bad! And the desk does not get any direct sun. I talked with a furniture refinisher and he said cherry is notorious for this. Just a warning. I wish I had known before I ordered the cherry wood.
I live in a:
House
This product is used in my:
Home office
Durable finish
Good Surface Area
Quality construction
Too expensive. Cheaper other places.
Customer comments about Float® 60w 30d 27-47h Desk:
Too expensive by Room & Board. Other places sell same thing for $1000 less
Durable finish
Good Surface Area
Great design
Quality construction
Customer comments about Float® 60w 30d 27-47h Desk:
I use this as my main desk/working space. There is plenty of room for my desktop iMac plus books and papers. We mounted a keyboard tray which means I can adjust the desk height according to what is comfortable from a viewing perspective while I can adjust the keyboard separately for maximum comfort. The desk height is easily adjusted and I do so several times a day as I switch between standing and sitting. So glad I purchased this desk.
Service and delivery comments:
Delivery was spot on perfect, once again!
I live in a:
Townhouse
This product is used in my:
Home office
Ergonomically Sound
Good Surface Area
Great design
Quality construction
Desktop computer
Laptop
Larger Offices
Smaller Offices
Writing desk
Customer comments about Float® 60w 30d 27-47h Desk:
LOVE this desk. After sitting at my desk (in a Herman Miller aeron chair) for 8+ hours a day 5 days a week, I had the worst neck and shoulder pain. Someone recommended a height-adjustable desk and I knew that Room and Board would have something to suit my style. I was right. This desk is SO easy to use (seconds to go from sitting to standing and vice versa) and with very little effort involved. Highly recommend if you have back or neck trouble or just need to get up out of your seat but can't walk away from your work.
Service and delivery comments:
There was a slight snafu with delivery (came with the wrong color base on first attempt but they left the desk for me to use until the correct ensemble was delivered soon thereafter) but Room and Board customer service was stellar in resolving the issue.
I live in a:
House
This product is used in my:
Home office
Good Surface Area
Great design
Quality construction
Desktop computer
Laptop
Smaller Offices
Writing desk
Customer comments about Float® 48w 30d 27-47h Desk:
This is a very nice floating desk. It moves up or down quickly and smoothly. I don't load it much (I use it with a laptop), but it seems like it could handle a lot more.

It's expensive, but I'd rather spend my money on ergonomic furniture than I would on back surgery.
Service and delivery comments:
My delivery experience couldn't be beat. The team arrived a few minutes earlier than the expected time window, and they had assembled the desk before they arrived. It took them around 5 minutes to finish.
I live in a:
Apartment/condo
This product is used in my:
Living room/family room/great room
Durable finish
Good Surface Area
Great design
Quality construction
Desktop computer
Laptop
Larger Offices
Smaller Offices
Writing desk
Customer comments about Float® 60w 30d 27-47h Desk:
Beautiful desk. I got the walnut top with white legs, and just love the way it looks. Since I'm at my desk 8+ hours a day, it's great that I get to enjoy this beautiful walnut top. I now also have the keyboard tray by Humanscale which allows me to use the whole desk.
Service and delivery comments:
Great service and delivery. I had to modify my order (going from a silver to white legs) and they took care of it right away in my initial order process. The delivery was smooth too. Probably took less than 15 minutes, and came right on time.
I live in a:
House
This product is used in my:
Home office
Durable finish
Good Surface Area
Great design
Quality construction
Craft table
my everything work surfac
Writing desk
Customer comments about Float® 60w 30d 27-47h Desk:
great size, surface, function, flexibility. I use for all types of projects including sewing. Love that I can change height. better than i dreamed.
Service and delivery comments:
excelellent
I live in a:
House
This product is used in my:
Home office
Customer comments about Float® 60w 30d 27-47h Desk:
I ordered this desk months ago, but I still haven't gotten a delivery of a working desk. The first time it was supposed to be delivered, I received a call the day before to tell me that they had just discovered that the desk was warped, so it wasn't going to be delivered with the rest of my items.

The second time, a couple weeks later, the delivery service called me at 7 am to tell me the desk was being delivered, but it turned out to be the wrong day. Then, when the delivery guys came out on the right day, the desk didn't actually move up or down at all. After trying to get it to work for a while, they left me with a broken desk and told me that they would schedule a person to come out to service the desk; the first available date was two weeks out. Two weeks later, the service person came and determined that he needed to order a new base entirely.

For how much this desk is, I don't think it's too much to ask to get a desk that actually moves up and down. It's been months and I still haven't gotten a desk that works.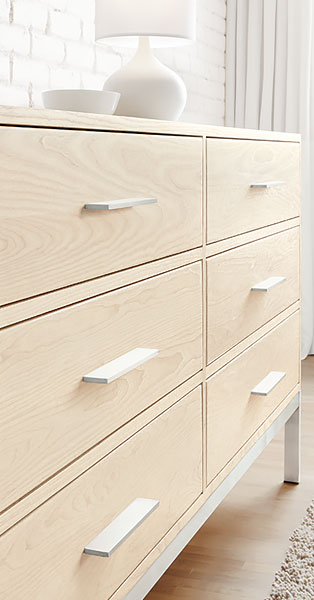 Exceptional Service,
Start to Finish
We treat you the way we would like to be treated, from shopping and ordering to delivery and long-term service.
American-Made Quality
More than 90% of our products are American made. Working with family-owned companies around the U.S. allows us to bring you the best quality and fastest delivery with the least environmental impact. It also means you get furniture with a story you'd be proud to share.
Inspired Design Guidance
Our Design Associates put their product expertise and passion for home design into helping you create a functional and inspiring space. Their design help is always available to you for free.
Fair Prices
We set our prices on December 26 and guarantee them for a full year so you can take the time you need to find the pieces that work for you. No discount codes, no flash sales. We give you our best price every day.
Unlimited Items for
One Flat Rate
Receive unlimited items for $89 within 100 miles of our stores or $129 anywhere else in the contiguous United States. Small accessories ship for free via UPS.
Full-Service Delivery
Our respectful Delivery Associates take care of every detail. Furniture arrives fully assembled and is placed exactly where you want it with no packaging left behind.
Free Returns and Exchanges
We offer free return or exchange delivery service on any item you buy from us. We understand that it can take a few days to a few weeks to determine if your new furniture will work for you. We encourage you to return or exchange items in a timely manner because damage or wear will result in an adjustment to your final refund.
Our Guarantee
We stand behind the quality of our products and the prices we charge. If you're not satisfied with your purchase or any part of your experience, just let us know. We're here to help.
Delivery
Get unlimited items delivered by our dedicated Delivery Associates for one flat rate per trip—$89 for local customers within 100 miles of a Room & Board store and $129 for customers who live beyond our local delivery areas within the 48 contiguous states. Unlimited accessories ship for free via UPS (excluding accessories that require in-home delivery).