Description
Mid-century details like turned tapered legs and beveled edges lend an air of refinement to our Grove desk. Open design makes cord management a breeze. Handcrafted by Pennsylvania woodworkers, the Grove desk features a natural oil-and-wax finish that showcases the beautiful grain of its solid wood construction.
Who Makes This?
Learn about the artisans: Spectra in Pennsylvania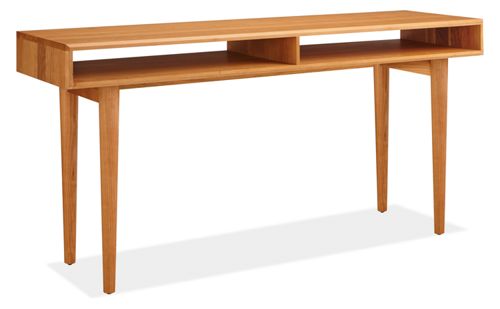 Grove
Stocked Item
$999.00
UPS Shipping
Ship an unlimited amount of small accessories for free. Ship one large accessory item or a piece of small furniture for $25 via UPS Ground.
Get an unlimited number of small accessories delivered for this set rate.
Delivery rate for a single large accessory item or a piece of small furniture.
Free delivery on this item.
View Options and Prices


Suggested Pairings

Similar
Styles
$1,099 - $1,299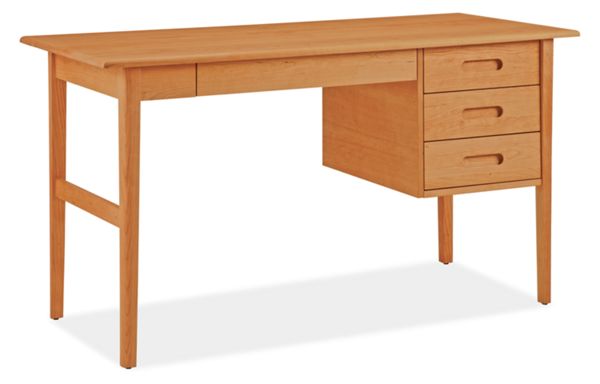 $999 - $1,199 $1,099 - $1,299
Read all reviews
Good Surface Area
Great design
Customer comments about Grove 60x18 Desk:
I ordered the Grove desk to fill the need for a small bedroom desk that could double as a console. The two open compartments allow convenient storage for items used often, without cluttering surface area. The warm textures in the walnut finish are complementary to the variety of wood colors in my home.

I moved it upstairs for a party when I needed a console there- it functions just as well in my living and dining area, where it now lives. I have tried it in three different rooms and its perfect size make it versatile enough for any location.

I also ordered the Lind 21x21 ottoman in cream with wheels, which slides underneath for stored seating if you intend to use it as a writing area. Looks lovely and items are perfectly functional together.
I live in a:
House
This product is used in my:
Dining area, Living room/family room/great room, Primary bedroom
Share this review
Ask a Question
Do you have questions about this product?
We're here to help with answers from our expert Design Associates.
3 Questions | 4 Answers
Displaying questions 1-3
Grove 60x18 Desk

Q:

Can you please recommend a product for refinishing. Unfortunately, the surface for the Walnut is very sensitive (including scratches) and I have a light ring mark from a coaster which was on for several weeks at the same spot. Thanks.

Asked on 9/13/2014 by Ovunc from Las Vegas

1 answer

Grove 60x18 Desk

Q:

What is the distance between the legs of the desk? I see the length of the desk is 60" but it doesn't seem to indicate the space between the legs.

Thanks!

Asked on 2/23/2014 by WHD

2 answers

A:

Distance between the front and back legs is 11.75 "

Distance between the right and left legs is 46.5"

Answered on 2/25/2014 by Design Associate from Room & Board

A:

Distance between the front and back legs is 11.75 "

Distance between the right and left legs is 46.5"

Answered on 2/25/2014 by Design Associate from Room & Board

Grove 60x18 Desk

Q:

Is it finished on all aspects? Ie, if you rotate it 180 degrees on its vertical axis, would it still look the same?

Asked on 2/1/2014 by Eric from Houston, TX

1 answer

A:

Yes, the Grove desk/console looks the same from either vantage point; including the same finish details and beveled edge. It is 2-sided and doesn't really have a front or a back.

Answered on 2/3/2014 by Design Associate from Room & Board
Displaying questions 1-3