Description
Contemporary and environmentally friendly, our EcoSmart fireplaces make it safe and easy to bring an open flame to any space. Because each ventless fireplace uses bioethanol, a renewable liquid fuel that burns cleanly and efficiently, you get cozy warmth without smoke, sparks or mess.
Designed for use only in wood-burning fireplaces, the Scope grate is simple to install and enjoy. Its contemporary looks and dancing flames transform traditional fireplaces with stylish, eco-friendly warmth.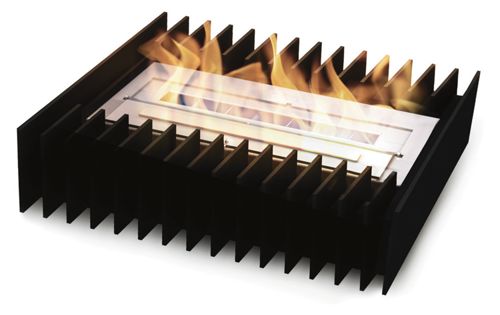 EcoSmart Scope 340 Fireplace Grate
Made for you in 3 weeks
$995.00
UPS Shipping
Ship an unlimited amount of small accessories for free. Ship one large accessory item or a piece of small furniture for $25 via UPS Ground.
Get an unlimited number of small accessories delivered for this set rate.
Delivery rate for a single large accessory item or a piece of small furniture.
Free delivery on this item.
View Options and Prices

Ask a Question
Do you have questions about this product?
We're here to help with answers from our expert Design Associates.
2 Questions | 2 Answers
Displaying questions 1-2
Q:

About how many hours of fire will the product supply, per quart of fuel, assuming you use the recommended e-nrg fuel?

Asked on 3/7/2014 by Danielle

1 answer

A:

In general 5 Litres OR 11/4 Gal of Bi Ethanol would last from 7 hours on MAX and up to 20 hours on MIN setting.Additional information can be found at

http://www.roomandboard.com/images/pdf/scope.pdf

Answered on 3/10/2014 by Design Associate from Room & Board

Q:

What is the source of the fuel? In other words, where can it be purchased?

How is this unit turned on or off?

Is this unit in the University Village Store, Seattle, WA?

Thank you

Asked on 11/6/2013 by Wendy

1 answer

A:

You can purchase Bio Ethanol from supermarkets and hardware stores. We recommend E-NRG Bio Ethanol fuel that can be purchased in standard packaging of 3, 8, 12, or 16 gallons (price/quart is approximately $5.50). Their website is e-nrg.com or you can call them at 888-590-3335.

An instruction manual that accompanies the product outlines everything you will need to know to operate an EcoSmart fireplace safely and efficiently. You use a butane lighter that comes with the model to ignite the fire. There is a shut off mechanism.

The Seattle store does show an example of one style of the EcoSmart line, however not this particular model. That said, the burner design is very similar across models.

Answered on 11/7/2013 by Design Associate from Room & Board
Displaying questions 1-2