Sectional Ideas
Need some ideas to get started? Below are some of our most popular configurations for the Harding sectional.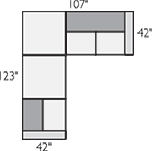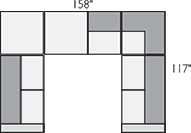 Sectional Designer Help
How to use the Sectional Designer
Drag and drop pieces onto the Sectional Designer, from the right side of the screen to the space on the left.
Edges of individual pieces that are able to be attached to each other are indicated by a green semicircle.
Use the Shape Tools to rotate, select, move or delete pieces and maneuver them into your desired configuration.
You can configure and connect up to ten pieces to create your sectional.
All pieces must be connected before you can move to Step 2 to choose your fabric.
Pieces can be inserted between previously attached pieces, but only when attachable edges are available on each piece. Some pieces may need to be dragged onto the Designer and rotated before they can be attached.
You can only configure one sectional at a time in the Sectional Designer. If you wish to configure more than one sectional, you must configure each one separately and "Add to Cart" or "Add to Wish List".
To save your design, click "Add to Wish List". Designs saved to your cart may disappear after you leave the website.
For the best experience in the Sectional Designer, we recommend the following:


Browsers for Mac: Firefox 12+, Safari 5.1+, Chrome 27+
Browsers for Windows: Firefox 12+, Internet Explorer 9.0+, Chrome 27+
Browser settings: Javascript enabled, cookies enabled
Optimal screen resolution: 1024 x 768

For help with shopping and ordering, contact a Design Associate at 800.301.9720


Monday through Friday 8 a.m. to 9 p.m. (Central Time)
Saturday 9 a.m. to 6 p.m. (Central Time)
Sunday 10 a.m. to 6 p.m. (Central Time)
Understanding Sectionals
Sectional pieces are named based on how they appear as you face it, not as you sit on it.
Dimensions shown are measured from the back of the piece to the front edge. Dimensions for angled and wedge pieces reflect the floor space the pieces will occupy, not the actual dimensions of the pieces. This is to help with overall space planning.