Accessibility Statement
Skip Navigation
Design
Details like hand-selected wood veneers and mitered corners speak to the craftsmanship of the North Dakota woodworkers who build Copenhagen. This versatile, durable design combines the modern look you love with the functionality you need.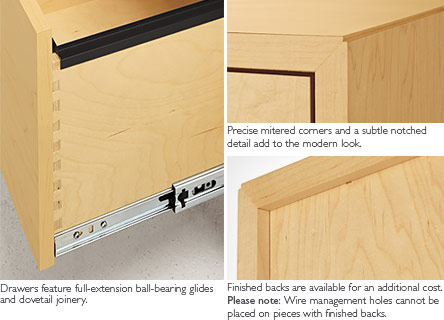 Materials
Veneer refers to a sheet of wood positioned by hand and glued onto a solid composite board. We use veneer as a construction technique to ensure greater consistency in grain patterns across large surfaces, such as doors and drawer fronts. Our high-quality wood veneers also keep joinery tight and increase structural integrity.

Hardware
You can select from black or aluminum pulls. Each pull is 2 1/4" wide and 1/2" deep.
Bases
You can select from natural steel, stainless steel or casters. The clearance beneath the cabinet is 3" for steel bases and 5" for casters. Casters on cabinets 58" or wider will include a 5th caster positioned in the center of the base for additional support.
Please note: Casters are not available on all cabinet sizes.