Aurelie Tu
Founded in Portland, Oregon, by Aurelie Tu, CraftedSystems collaborates with local shelters to create textural, geometric art and vessels from wool felt.
History
An industrial designer, Aurelie Tu designs products such as laptops, TVs and digital sport watches. While she enjoys the work, Tu also appreciates working with tactile and natural materials. After experimenting with technology, design and handwork, she founded CraftedSystems in 2010 to produce art using specially cut felt pieces with an eye toward community building.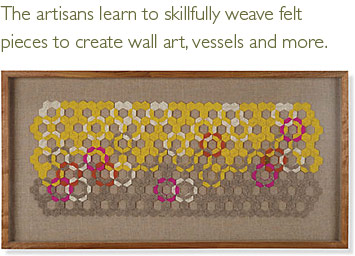 Innovation meets craftsmanship
At its core, CraftedSystems celebrates modern craft. Every piece is made in an empowering environment for people in the YWCA women's shelter and P:EAR, an organization for homeless youth. The artisans learn to skillfully weave felt pieces to create wall art, vessels and more. Working in a group to produce beautiful, tangible pieces is often therapeutic, coined "healing handwork", and provides income to people in challenging circumstances.
Design that Makes a Difference
All CraftedSystems products are hand-assembled from Eco-wool felt. The flexible interlocking shapes are produced through waterjet or die-cutting and carefully assembled without glues or stitching. Each piece combines geometric style with tactile organic form.
See all Aurelie Tu products