How to:
Build a better dining space
Find the Perfect Table
Thanksgiving feasts. Late-night study sessions. Finger paints and scrapbooking. A great dining table can become the heart of your home. That's why we make sure ours strike the perfect balance of beauty and durability.
For a dual-purpose work surface and casual dining space, consider a counter with stools. If you can't find the right table for a hard-to-fit space, create a custom table to your ideal dimensions. Then choose one of our easy-to-maintain natural top materials like solid wood or stone, which look great in any room.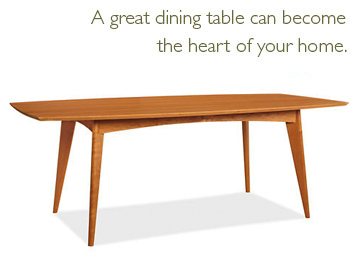 Have a Seat
Benches placed along one side of a table can save space and put a new spin on classic dining. Depending on the type of chair you choose and how many people you need to seat, benches may also provide a money-saving alternative to traditional seating arrangements.
Serve up a punch of personality with fresh chair combinations. Cover several of the same chair silhouettes with a variety of complementary fabrics for an eclectic, modern look. Or choose different silhouettes in the same wood type for a subtle juxtaposition of style elements.
Contain Clutter
Let dining room storage pull double duty as a place to stow files, games and books. Or line a wall with bookcases to transform the space into a cozy, eat-in study.
Create a custom cabinet by combining file drawers, wine racks, display shelves and more into the perfect storage setup. Balance out the room by designing a cabinet that's taller or shorter than the surface of the table. You can also use the top of the cabinet as a serving area for entertaining or a place to display dishes.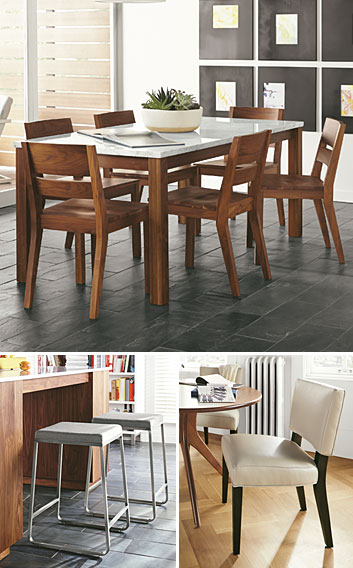 (top) Linden table in walnut with venatino marble top, Afton chair in walnut
(bottom-left) Collins stool in stainless steel
(bottom-right) Georgia chair in leather