How to:
Design a frame wall
Find Your Inspiration
Bring the eclectic charm of an art gallery into your home with a little inspiration and a few basic pieces. Mounted ledges let you lean photo frames casually against the wall or add accent pieces into your display.
You don't need extensive wall space in order to showcase your collections. Blend frames of varying sizes and shapes on a single shelf to lend depth and perspective to an art or photo collection. Let the frames overlap for an organic, mix-and-match look.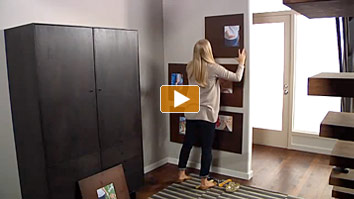 Tell Your Story
Create a visual narrative by grouping accent pieces or prints into a cohesive series. Or assemble a variety of elements around a central theme for a collage effect.
Echo the curved lines of a graphic print with a sculptural vase or lamp. Pair travel photos with other mementos from your favorite trip. Stagger several ledges to make room for a variety of frame heights. Or hang rails and décor above a desk to liven up your workspace.
Change and Rearrange
When you use ledges, there's no need to drill new holes every time you want to change your display. Rearrange and swap out pieces as often as you like.
Showcase a child's latest art class masterpiece, and update throughout the year. Or set out seasonal pieces to welcome holiday guests.