How to:
Office anywhere
Create Your Workspace
Build a personalized workstation for all your home and office needs with our Top + Base collections. First, choose your base or legs. Then select from more than a dozen surface materials, including solid wood, white quartz and frosted glass.
A behind-the-sofa console table is a great place to quickly check email or pay bills. It can also moonlight as a bookshelf or an impromptu serving area for parties. Need a temporary workstation solution? Armoires and cabinets provide a convenient place for concealing clutter.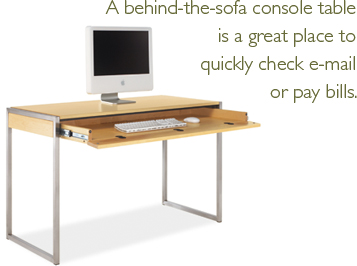 Consider Storage Features
A cabinet can efficiently store all your papers and files, and look great doing it. A number of our cabinet collections feature a range of available sizes and finishes, as well as optional casters for maximum mobility.
Does your dining room double as a home office? A multifunctional storage solution can keep projects organized yet easily hidden when it's time to dine or entertain. Our custom storage cabinets let you design storage pieces that pull double duty as display cases with inserts like file drawers, wine racks and open shelving.
Accessorize Wisely
Office areas often require task lamps to ensure the best lighting for focused work. If space is at a premium, consider using a floor lamp that can be adjusted to illuminate your work area as needed.
An adjustable office chair will support your back and improve your posture throughout lengthy projects. If your workspace is part of a living area, dining chairs can provide comfort without stealing the spotlight from other furniture.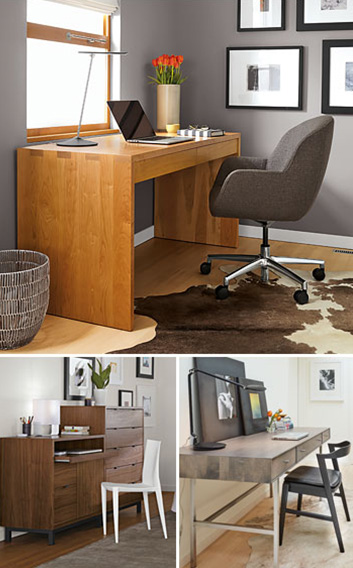 (top) Rowan desk in cherry, Nico office chair in Darin charcoal
(bottom-left) Copenhagen office cabinet in walnut veneer, Bellini chair in white
(bottom-right) Hudson desk in shell stain, Jansen chair in charcoal