How to:
Choose the perfect rug
Define Your Space
Open floor plans can create the illusion that your furniture is "floating." A carefully placed rug will anchor your space and define the area. Choose a rug that complements your décor in a size that works for your furniture, and the room's traffic pattern.
Create a cohesive look between rooms with rugs that complement (rather than match exactly) the furnishings in a space.
Dine in Style
The soft texture of a rug stylishly complements the lines of a dining table, creating an inviting atmosphere for laid-back meals and lively conversation.
Place a colorful rug beneath your dining furniture to create a dramatic space for entertaining. In general, you want to choose a rug that's large enough so guests can push back their chairs without sliding off.
Create a Cozier Bedroom
A wool rug adds instant texture and warmth to any bedroom, letting you slumber in comfort and style.
Create a perimeter around the lower two-thirds of your bed with a solid-colored rug. Or place small runners along each side. Choose rugs with a deep, plush pile for an irresistibly soft landing.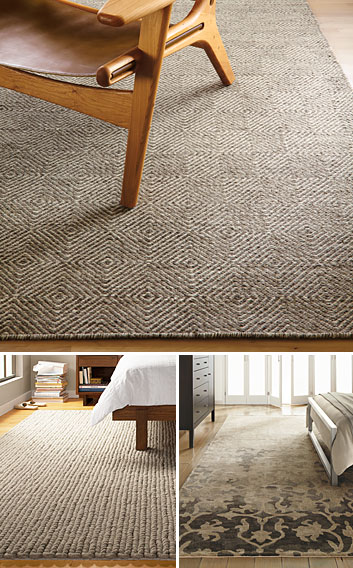 (top) Avani rug in foxhound
(bottom-left) Cable rug in heather
(bottom-right) Filigri rug in bisque