How to:
Select a sofa
Find Your Fit
A great sofa should help set the tone for a room—but first it has to fit through the door. If your space has narrow doorways, tight stairs or other architectural obstacles, try a sectional sofa. With smaller, individual pieces, a sectional can provide ample seating without the hassle of accommodating a large single-piece sofa.
Smaller rooms occasionally require smaller-scale furniture. Choose a sofa with a width of 65 to 75 inches to provide plenty of seating in a minimal footprint.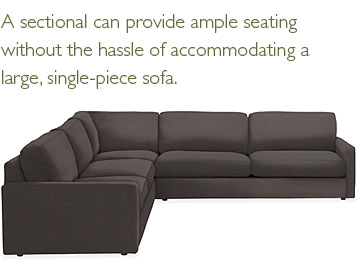 Consider Your Seating Needs
Think about how you'd like to use your sofa. Will you sit on it every day? Would you use it mainly for entertaining guests? Do you like to lounge, or do you prefer a tighter, more tailored back?
Factor in arm height when you're making your sofa selection. Sofas with a low arm profile are more comfortable for occasional naps and casual seating. And remember: a sleeper sofa can transform any space into a bedroom for overnight guests.
Choose the Right Fabric
Choosing the fabric for your sofa can be the most fun—and sometimes the most daunting—part of sofa shopping. You'll want to consider not just the color, but also the texture and finish of the fabric.
We can customize your sofa selection with any of our fabrics. Order free swatches to experience them first-hand. Browse by color, style or fabric type. Our fabrics have been tested for durability and easy care, so you can be sure they'll look great for years to come.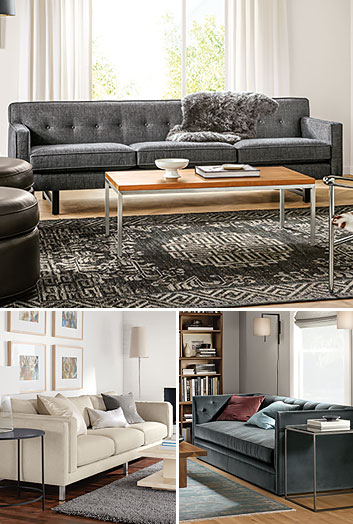 (top) André sofa in Total ink
(bottom-left) Cade sofa in Orla ivory
(bottom-right) Macalester sofa in Vance charcoal