How to:
Find simple storage solutions
Know Your Storage Needs
Think about your current storage needs. Then, consider how they may change over the years. Will toy shelves one day display books or picture frames? Is your pottery collection growing? Make sure the storage pieces you buy will house what you already have, and can easily accommodate additional items.
If you're looking for media storage, pay attention to special features. From drop-down drawers to perforated doors for interference-free remote control use, think about the best design for holding your collections and components.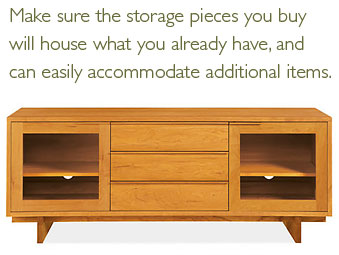 Size it Up
Before you commit to a piece of furniture, get a sense of how much space you have to work with. Ideally, you'll find a solution that maximizes the things you can store without overwhelming the room. Also, don't forget about depth—can your shelves comfortably accommodate oversized art books or electronics as needed?
Furniture doesn't always have to sit against the walls. Slide a console behind the sofa in the middle of the room. Or use an open bookshelf to pack additional storage space into a small area.
Pull it All Together
Not sure which storage piece is right for your space? Identify your needs, then try bending the rules a little. For example, place a dresser in the dining room to organize table linens and dishes. Set an armoire in an entryway to house coats and shoes. Or use a cabinet to hide clutter in any room.
Choose accessories that balance form and function. Create interesting visual texture on a shelf by organizing reading materials in decorative baskets. Let vases become bookends for keeping novels neat and tidy. Or protect periodicals with a magazine stand.