Natural Hides
Natural hides, such as sheepskin and cowhide, add texture and warmth to any room.
Sheepskin
In addition to being incredibly soft, sheepskin's natural properties make it a smart addition to your home. The lanolin oil within wool fibers allows sheepskin to repel moisture, dirt and odors. Even when used as rug, sheepskin retains its loft thanks to wool's ability to spring back after being compressed. Renewable, biodegradable and sustainable, our sheepskin is sourced from the U.S., New Zealand and Australia.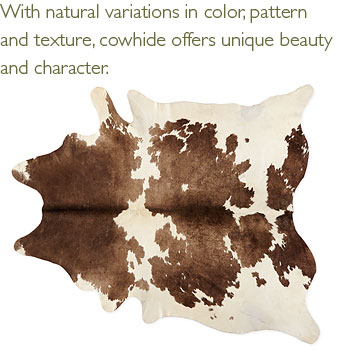 Cowhide
With natural variations in color, pattern and texture, cowhide offers unique beauty and character. Our cowhides are left in their natural state with the suede backing intact, resulting in a substantial feel and authentic coloring. While it may appear delicate, cowhide is durable and stain resistant, making it suitable for high-traffic areas. Regular care is as simple as shaking or vacuuming, and the moisture-repellency of the hair and hide allows for easy stain removal. Biodegradable and 100% natural, all Room & Board cowhides are a byproduct of the food industry.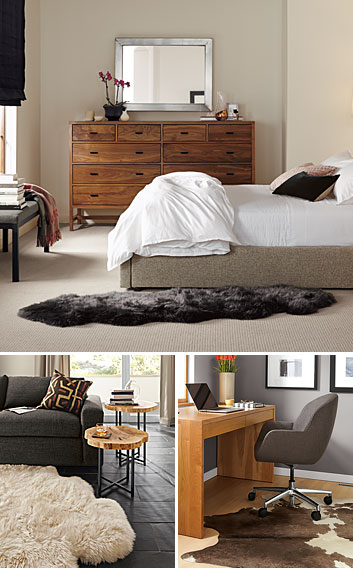 (top) Sheepskin rug in steel
(bottom-left) Sheepskin rug in stone
(bottom-right) Cowhide rug in toffee