Customer Service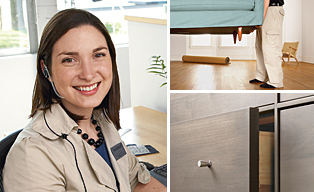 Contact Us
We're here to help.
Speak with one of our Design Associates. Located in our headquarters in Minnesota, with firsthand knowledge of our furniture, they are happy to offer suggestions and answer your questions to make your experience easy and hassle-free.
Monday - Friday 8 a.m. to 9 p.m. (CT)
Saturday 10 a.m. to 5 p.m. (CT)
Sunday 10 a.m. to 5 p.m. (CT)

or e-mail us
Our Guarantee
We know that buying furniture for your home is more than just a financial decision. It's also an emotional investment. From the first sketch to the final product, we work directly with the people who build our furniture, eliminating the middleman and saving you from unnecessary mark-ups. These relationships allow us to bring you the perfect combination of quality materials, craftsmanship, design and price.
Your satisfaction guaranteed
Our goal is to provide a positive customer experience by supporting you throughout the entire shopping experience. We stand behind the quality of our products and the prices we charge. If you're not completely satisfied with your purchase or any part of your experience, just let us know.
Our price guarantee
We set our prices on December 26 and guarantee them for a full year so you can take the time you need to find the pieces that work best for you. In the unlikely event another retailer should offer a lower price on our items, we will gladly match it.
Payment options
Credit cards
We accept VISA, MasterCard, Discover and American Express. Room & Board does not collect a surcharge on any credit card transactions.
Personal checks and money orders
Contact a Design Associate for more information at 800.301.9720.
Room & Board gift cards
To order or redeem a gift card, contact a Design Associate at 800.301.9720 or visit one of our stores.
Sales tax
We are required to collect sales tax according to the specific sales tax law for your state.
Delivery Pricing
Affordable, full-service delivery
You deserve expert delivery or convenient shipping to get your new items in your home at the lowest price possible. That's why we offer personal service and great rates based on where you live, not how much you buy. Trust us to get it right, whether we're shipping a single picture frame or delivering a room full of furniture.
UPS Shipping
Get unlimited accessories shipped for free via UPS.
Learn about our delivery process—from preparing your furniture to placing it in your home—from our expert Delivery Associates.
AK, HI and International Shipping
Please contact us for assistance with delivery to Alaska, Hawaii, international locations and P.O. boxes by calling 800.301.9720 within the United States, or +001 612.234.3049 internationally. Visit our full site to fill out our international shipping quote form to facilitate the process.
Returns & Exchanges
We want you to be completely happy with your new furniture. If there's a problem with an item, or if things just don't look the way you thought they would, please let us know. We're here to help.
We understand that it can take a few days or a few weeks to determine if your new furniture will work for you. We encourage you to return or exchange products in a timely manner because damage or wear may result in an adjustment to your final refund.
We provide a 120-night sleep trial for our mattresses. Mattress returns or exchanges will not be accepted after 120 days except in the rare case of defects in materials or workmanship.
We don't charge a delivery fee for returns or exchanges within the 48 contiguous states. However, original delivery charges are not refundable.
If an item is damaged or unsatisfactory we will work with you to resolve the issue to your satisfaction with expert product repair, parts replacement or an exchange.
Custom Product Policy: A non-refundable fee of 30% applies to returns, cancellations or changes on Custom products. Full refunds are only given if the order is canceled within 48 hours of the order being placed. Please note: Because Custom Window Treatments are made to the specific measurements of your windows, they cannot be returned.
Credit card or gift card orders will receive a credit; orders paid by check or cash will receive a refund check.
Because Room & Board Custom Window Treatments are made to the exact measurements of your windows, they cannot be returned. If you order a window treatment in the wrong size or fabric, we offer a discount of 50% on a re-order for the same window when placed within 30 days of receiving the original order. For window treatments ordered too large, we offer free cut down service on most window treatments.
How to complete a return or exchange:
Call us at 800.301.9720. We will work with you to set up a return delivery or e-mail a UPS return label.
Save your UPS packaging. Once you receive your label, take it to a UPS store or call UPS for pick up. All credits/refunds are given when product is received.
Fabric & Material Samples
See all available fabrics and materials and order up to 20 fabric swatches and sample cards at no cost on the full website. Go to Fabrics and Materials on our website or contact us