San Francisco
San Francisco Area Delivery Center
See the new 2017 collection starting Friday, January 6.
Located in the SoMa neighborhood at Seventh and Townsend, inside a restored Chinese import warehouse dating back to the 1950s.
Free on-site parking.
The showroom features 40,000 square feet of design inspiration on three floors.
The facility is powered in part by solar energy, and features landscaping designed by San Francisco landscape architect Andrea Cochran.
Opened in 2005.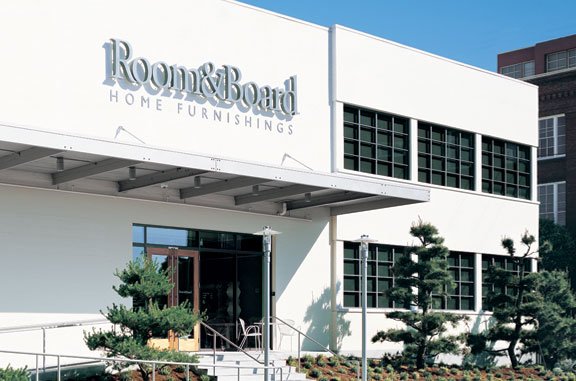 Store events
Places to eat
Places to stay

New 2017 Collection Open House

You're invited to a special open house weekend as we introduce our new assortment of beautifully designed, artisan-crafted furniture and accessories. Explore the collection and get modern design inspiration for your home. Enjoy light refreshments and enter to win a $1,000 Room & Board gift card.

Saturday, January 28

10 a.m. to 6 p.m.

Sunday, January 29
11 a.m. to 6 p.m.

Room & Board

685 Seventh Street

San Francisco

,

CA

94103

415.252.9280

155 Steuart Street
San Francisco, CA 94105
415.495.2100

550 Geary Street
San Francisco, CA 94105
415.868.4091

181 Third Street
San Francisco, CA 94105
415.777.5300
Modern Style Gallery
Check out photos of store events, inspiration and everyday happenings. Use #roomandboardSF or the add a photo button to share your photos from your local store.