New York City - SoHo
Room & Board
105 Wooster Street
New York, NY 10012
212.334.4343
Monday - Friday




11 a.m. to 7 p.m.

Saturday

11 a.m. to 7 p.m.

Sunday

11 a.m. to 6 p.m.
Holiday Hours
Monday, September 5,

12 p.m. to 5 p.m.
Room & Board SoHo offers an inspirational boutique shopping experience. The smaller of our two New York stores, this 8,000-square-foot space showcases our exclusive, American-made accessories and limited furniture collections.
Outdoor, kids' and office furniture are not shown at this location.
Visit our 48,000-square-foot flagship store in Chelsea to see our entire collection of modern furniture and accessories.
Both of our New York stores are staffed with expert Design Associates who can assist you with any Room & Board item.
On Wooster Street between Price and Spring Streets. Convenient subways include:

(6) to Spring St
(C) or (E) to Spring St
(N) or (R) to Prince St
(F) (D) (B) or (M) to Broadway-Lafayette St/Bleeker St
(1) to Houston St

Opened in 2004 and remodeled in 2015.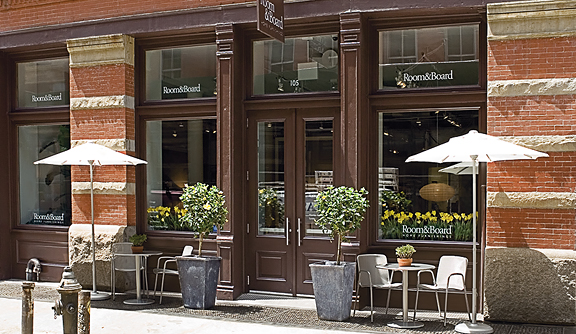 Places to eat
Places to stay
27 Grand Street
(at Thompson and Grand Streets)
New York, NY 10013
888.526.3778
60 Thompson Street
(between Spring and Broome Streets)
New York, NY 10012
212.431.0400
130 Duane Street
(at Duane and Church Streets)
New York, NY 10013
212.964.4600
We Offer Our Best Value Every Day. Our Prices Are Guaranteed Until December 26.