Artisans & Designers:
Pure Rugs
This Los Angeles-based design studio's one-of-a-kind cowhide rugs celebrate the union of old world traditions and modern design.
History
Founded in 2001, Pure Rugs is the product of three South American architects who, inspired by the modern yet timeless appeal of cowhide rugs, set out to share the artisanal leather traditions of their birthplace with the world. To do so, they went straight to the source, working with the region's finest hide purveyors and artisans to create their natural cowhide rug brand.
To owners Fernando and Juan Diego Gerscovich, "pure" is more than a name—it's a philosophy that informs everything they do. "Pure is about creating a brand that backs up the story behind the product," Juan Diego Gerscovich explains. "We wanted people to be sure that when they buy a cowhide rug, they know where it came from and that it was done in the best possible way."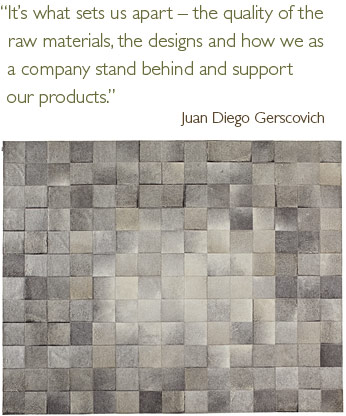 Craftsmanship
Pure rugs are handmade in Buenos Aires, Argentina and Brazil and begin with the finest cowhides from the Pampas grasslands, which are hand-chosen for a combination of color, softness and shine. Individual pieces are cut and carefully arranged to create the desired pattern—a practice that is time consuming but important. "You can have a great pattern but ruin it with a bad selection of hides," Juan Diego Gerscovich explains. Each rug is then finished with the company's signature zig-zag stitching and a natural, soft suede back.
Our Pure Rugs collection includes modern yet timeless reinterpretations of the traditional cowhide rug. The work of architect and designer Alejandro Ortiz, the Linea features individual rectangles carefully assembled to recreate the look of turn-of-the-century English brickwork. And the Park, a Gerscovich brothers design that's exclusive to Room & Board, uses a gradation of darker colors on the perimeter of the rug to lighter tones in the center. This attention to detail requires patient arrangement of the pieces before they are stitched together. "The Park is the most classic expression of a patchwork cowhide rug," Juan Diego Gerscovich says. "Combine that with our quality and it becomes a forever product."
Design that Makes a Difference
The Gerscovich brothers have built their business on sustainable, environmentally-friendly practices. To minimize the production of new materials, hides are sourced from animals raised for food consumption. Tanneries are certified for high quality and low environmental impact. And every Pure rug is designed to be both naturally beautiful and durable, so that it may be enjoyed for a lifetime. "It's what sets us apart—the quality of the raw materials, the designs and how we as a company stand behind our products," Juan Diego Gerscovich says. "All of these things are reflected in our rugs."
See all Pure Rugs products