Artisans & Designers:
Toka Baskets
Created from the root of the African makenge bush, these one-of-a-kind baskets bring rural Zambia's natural beauty to life indoors.
History
Toka founder Bridget Meyer grew up in a tiny village in Zambia. After moving to the United States in 1990, she decided to share the practical beauty of Africa's handmade goods with her new neighbors. In 1991, Meyer started importing baskets from Africa. She named her company Toka in honor of her native tribe.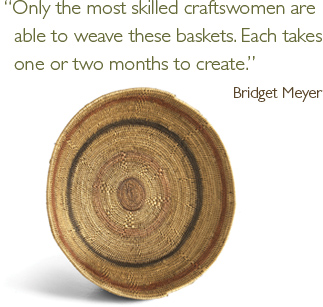 Craftsmanship
Makenge baskets are handmade according to ancient tradition. "Only the most skilled craftswomen are able to weave these baskets," says Meyer. "Each takes one or two months to create."
Zambian women pass down the techniques from mother to daughter. Baskets are traditionally given to women as wedding gifts and often become treasured family heirlooms.
Each basket is woven using motifs that tell universal stories. The colors and patterns are carefully chosen to represent themes of marriage, beauty and family. The baskets make meaningful gifts as accent pieces or functional display containers.
Design that Makes a Difference
Our partnership with Meyer has given Room & Board customers the opportunity to appreciate the unique makenge basket tradition for more than a dozen years. More importantly, each basket provides an economic opportunity to a native craftswoman.
"The money [these women] earn from the sale of their baskets has brought about positive change to their families and communities," says Meyer. "It has earned them a voice in the whole society."
See all Toka Baskets