MATERIAL GUIDES:
Fabric & Upholstery
Transform your space with the right combination of fabric textures, colors and patterns.
Upholstery
At Room & Board we partner with some of the top manufacturers in the business to ensure the best quality, comfort and style at the best possible prices. Frames are built using quality materials and techniques, and then reinforced to ensure lasting strength and stability. Our cushions are filled with a combination of fiber, feathers and down or have wrapped foam cores for excellent comfort and support.
Fabric
Our upholstered pieces are stocked in fabrics that work beautifully with each design, but you can personalize your furniture by selecting the fabric that best reflects your style. Choose from our collection of hundreds of fabrics in rich colors, subtle textures and fresh patterns. We also offer complimentary swatches and can make any of our fabrics into custom pillows.
Foam
As part of our commitment to promoting sustainable practices within the home furnishings industry, most of our upholstered furniture contains an eco-friendly flexible foam made with BiOH®. This foam uses soybean oil polyols to replace a portion of petroleum-based ingredients used in traditional polyurethane cushions—a responsible choice that leaves a smaller environmental footprint.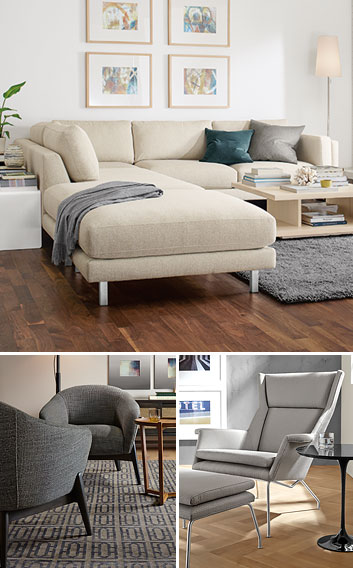 (top) Hutton sofa in Vick haze
(bottom-left) Cole chair in Dilcrest spice
(bottom-right) Chloe chair in Vance indigo