MATERIAL GUIDES:
Wood & Wood Veneers
Solid Wood
The true beauty of solid wood emerges gradually. Over time, wood develops a rich yet subtle patina that reveals the unique personality of each piece. All our solid wood furniture is constructed from responsibly forested maple, cherry and walnut. Built to last for generations, our tables, chairs, beds and storage pieces offer timeless designs that feature characteristics that make wood such a naturally beautiful material, such as intricate grain patterns and varying coloration.
Oil-and-Wax Finish
We use oil and wax to finish many of our solid wood pieces—a warm, natural way to protect wood that allows air and light to enhance the finish. Carefully applied by artisans to reveal the subtle characteristics of the wood, it adds dimension and a rich, low-luster sheen. Oil and wax seals in moisture, protects the wood and allows it to develop an heirloom-quality patina.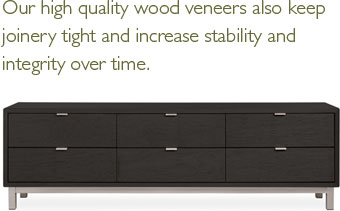 Wood Veneer
Veneer refers to a sheet of wood positioned by hand and glued onto a solid composite board. We use veneer as a construction technique to ensure greater consistency in grain patterns across large surfaces, such as doors and drawer fronts. Our high quality wood veneers also keep joinery tight and increase structural integrity.
Reclaimed Wood
On certain collections, we offer reclaimed wood salvaged from a variety of sources. In addition to being a sustainable sourcing practice, using reclaimed wood lends unique character to each piece. The wood, rich with patina from nail marks and color variation, is enhanced and protected with an oil or lacquer finish.
Medium Density Fiberboard (MDF)
The MDF we use has no added formaldehyde and is compliant with government safety regulations.
Butcherblock
Our butcherblock is created by fusing together a series of full-length, solid boards for a durable surface with a distinctive look.
Paints and Stains
All of our paints and stains are durable and easy to maintain. The paints used for our kids' furniture are no-lead and phthalate-free.