Monica Bed Assembly Instructions
List of parts:
1 headboard
1 footboard
2 side rails
12 steel slats
Tools needed:
Phillips screwdriver
rubber mallet or hammer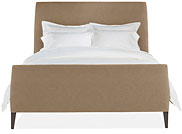 Directions:
Hold headboard upright near its desired placement.
With the side rail at a 90º angle, lift one end into headboard post by slipping shoulder screws of side rail into interlocking keyhole on headboard bracket (See diagram below). Tap rails with rubber mallet to ensure locked position. Repeat process with other side rail. Tighten screws if needed after assembly.
Attach footboard to both rails in the same manner as headboard.
Place slats on side rails, matching the slots in each slat to the rivet on the side rails.
Place mattress on slats.