Product Stories:
Outdoor furniture
Our collection of exclusive, American-made designs and Modern Classics make any outdoor space one you'll love to live in, without sacrificing quality or style.
Most of our outdoor furniture is made by the same artisans and craftsmen that create our indoor furniture. They use similar techniques—adapted to withstand the conditions of any climate—to build pieces that are meant to endure. From hand-welding the joints on our steel tables to checking every seam on our cushions, their attention to detail is evident in each piece.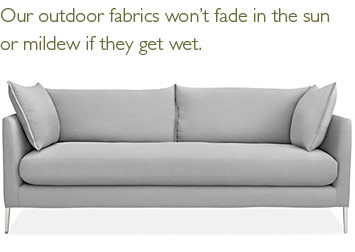 We choose materials made to live up to the elements and give you great comfort. Our outdoor fabrics won't fade in the sun or mildew if they get wet. Tables made from outdoor-grade stainless steel and powder-coated steel will last for years with only a minimum of maintenance. Innovative designs featuring 100% recycled materials and sustainable woods bring a new look to classic forms.
We're always looking for ways to bring what we do best to outdoor living. Whether you have an expansive backyard or a cozy balcony, you'll find plenty of options to create the perfect space for dining, relaxing and entertaining.
Shop Outdoor