Chicago - Downtown
New store hours start on Saturday, December 7:
Monday - Friday 10 a.m. to 8 p.m.
Saturday 10 a.m. to 6 p.m.
Sunday 11 a.m. to 6 p.m.
Room & Board
55 East Ohio Street
Chicago, IL 60611
312.222.0970
Monday - Friday

10 a.m. to 8 p.m.

Saturday

10 a.m. to 7 p.m.

Sunday

11 a.m. to 6 p.m.
Located at Rush and Ohio in the Magnificent Mile shopping district, our showroom has occupied its current space since 2003.
Parking is validated for a reduced rate of $14 (three-hour maximum) at The Shops at North Bridge parking garages. They are located at 10 East Grand Street with access from Ohio-Grand-Wabash and at 50 East Ohio Street.
The showroom features 46,000 square feet of design inspiration on three floors.
Opened in 1993.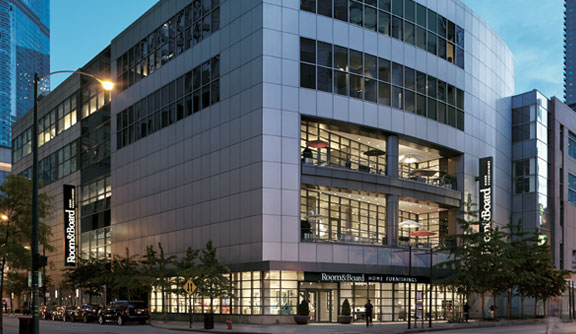 Places to eat
Places to stay
55 East Ontario Street
Chicago, IL 60611
312.337.1000
an Ian Schrager Hotel
1301 North State Parkway
Chicago, IL 60610
312.787.3700
15 East Ohio Street
Chicago, IL 60611
312.894.0800