Washington, D.C.
1840 14th Street, NW
Washington, D.C. 20009
202.729.8300
Monday - Friday

11 a.m. to 7 p.m.

Saturday

11 a.m. to 7 p.m.

Sunday

11 a.m. to 6 p.m.
Opened in 2010
The showroom features 36,000 square feet of design inspiration on four floors, including a rooftop patio.
It is housed in the R.L. Taylor Building, a 1919 Ford Motors showroom that's been restored to preserve its historical significance.
Metro stops: U Street/African-American Civil War Memorial/Cardozo Metro station on the Green Line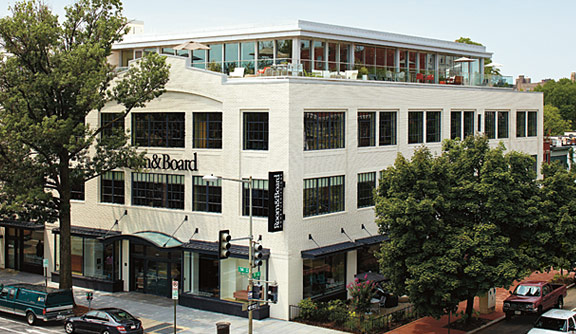 Store events
An Evening with Eames Demetrios
Please join Eames Demetrios, director of the Eames Office, author of An Eames Primer and grandson of Charles and Ray Eames, for a special discussion highlighting Ray's centennial and the enduring legacy and future of Charles' and Ray's designs and design philosophy.
Wednesday, May 22
6:00 p.m. to 8:00 p.m.
Conversation begins at 6:30 p.m.
Space is limited so sign up today.
RSVP here
Places to eat
Places to stay
1155 14th Street, NW
Washington, DC 20005
202.737.1200
1430 Rhode Island Ave., NW
Washington, DC 20005
202.462.9001
515 15th Street, NW
Washington, DC 20004
202.661.2400