Washington, D.C.
Room & Board
1840 14th Street, NW
Washington, D.C. 20009
202.729.8300
Monday - Friday

11 a.m. to 7 p.m.

Saturday

11 a.m. to 7 p.m.

Sunday

11 a.m. to 6 p.m.
Housed at 14th and T Street in the Logan Circle neighborhood in the R.L. Taylor Building, a 1919 Ford Motors showroom that's been restored to preserve its historical significance.
Metro stops: U Street/African-American Civil War Memorial/Cardozo Metro station on the Green Line.
The showroom features 36,000 square feet of design inspiration on four floors, including a rooftop patio.
Opened in 2010.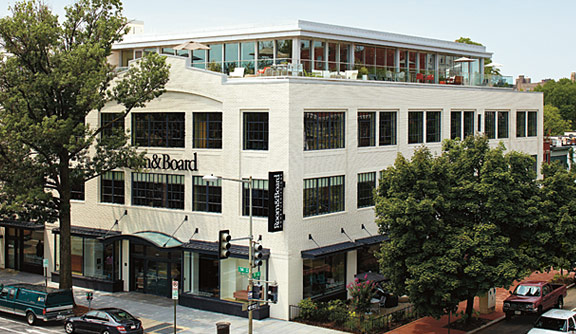 Places to eat
Places to stay
1155 14th Street, NW
Washington, D.C. 20005
202.737.1200
1430 Rhode Island Ave., NW
Washington, D.C. 20005
202.462.9001
515 15th Street, NW
Washington, D.C. 20004
202.661.2400