Description
Bring affordable gallery style to your home with posters from American and European museum collections.
Credited with completely transforming modern art, Jackson Pollock created his seemingly endless and intricate webs of curls and splatters with extraordinary hand and wrist control. Beginning with recognizable shapes and figures, he slowly obscured them through the application of many layers of abstract patterns that came to define his style.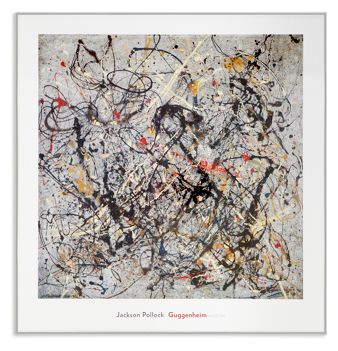 UPS Shipping
Ship an unlimited amount of small accessories for free. Ship one large accessory item or a piece of small furniture for $25 via UPS Ground.
Get an unlimited number of small accessories delivered for this set rate.
Delivery rate for a single large accessory item or a piece of small furniture.
Free delivery on this item.
View Options and Prices

Read all reviews
Customer comments about Poster Pollock, Number 18, 1950:
Love the colors, gray with vibrint red and yellow. It goes well with my new living room furniture.
I live in a:
House
This product is used in my:
Living room/family room/great room
Share this review