Description
Lustrous and resilient mohair wool provides the ultimate plush comfort. A linen back with a clean, finished edge completes this versatile, exclusive pillow. The cover removes for dry cleaning, and the included insert is feather and down.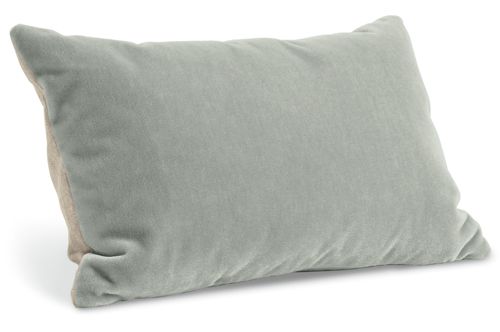 Mohair
Stocked Item
$119.00
UPS Shipping
Ship an unlimited amount of small accessories for free. Ship one large accessory item or a piece of small furniture for $25 via UPS Ground.
Get an unlimited number of small accessories delivered for this set rate.
Delivery rate for a single large accessory item or a piece of small furniture.
Free delivery on this item.
View Options and Prices

Read all reviews
Dry clean only
Expensive
Uncomfortable
Customer comments about Mohair 18sq Sky Pillow:
We came out of R&B with a plain colored sofa and assortment of decorative pillows that really dress up our living room. This one is sort of the supporting player of our collection -- the solid sky color and interesting textures are a nice contrast with some of the louder colors in our other pillows. However, it's expensive for a pillow, it has to be dry cleaned, and it's not particularly comfortable in my opinion (scratchy) so I would probably not purchase it again. But if money is no cost and you're using it more for decoration than comfort, it is a very nice, subtle decorative pillow.
I live in a:
Townhouse
This product is used in my:
Living room/family room/great room
Share this review
Cushioning
Decoration
Extra support
Customer comments about Mohair 24sq Pillow:
This is a great comfy pillow. We love the look of the sleek structured couch but wanted it to feel cozy as well. Adding two of these pillows did just that. They added the blue tone that we wanted in the room and made our sofa more comfy to hang out, watch TV, etc.
Share this review