Description
Bring affordable gallery style to your home with posters from American and European museum collections.
Obsessed with well-known images, Jasper Johns attached objects to the painted canvas as a way to incorporate mundane objects into a personal language. He sought to make the world his own, but at the same time creating a space in which the viewer's experience was never defined but rather open to change and even contradiction.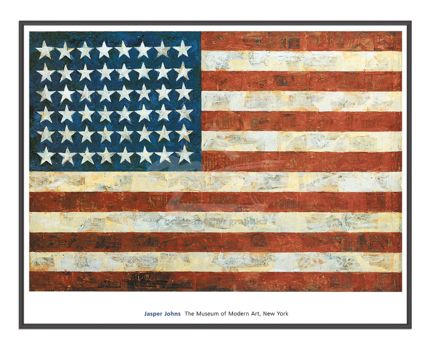 Johns
Stocked Item
$199.00
UPS Shipping
Ship an unlimited amount of small accessories for free. Ship one large accessory item or a piece of small furniture for $25 via UPS Ground.
Get an unlimited number of small accessories delivered for this set rate.
Delivery rate for a single large accessory item or a piece of small furniture.
Free delivery on this item.
View Options and Prices

Read all reviews
Customer comments about Poster Johns, Flag, 1954:
When we opened the package we were disappointed in the quality and craftsmanship of the frame. The print looks nice, but the frame detracts from this appearance. The frame is flimsy, and the metal joints do not match up correctly leaving sharp metal edges that make it is easy to cut yourself. We had ordered other art from a discount online store for a similar price and are quite happy with that frame. As such, it was very surprising to find that the Room and Board was of such poor quality frame.
I live in a:
Apartment/condo
This product is used in my:
Guest bedroom
Share this review