Description
Bring affordable gallery style to your home with posters from American and European museum collections.
Known for addressing grand themes from recent history, German painter and sculptor Anselm Kiefer's works are characterized by incorporating materials like straw, ash, clay and lead. In this piece, The Sixth Trumpet, he uses sunflower seeds to symbolize hope and rebirth.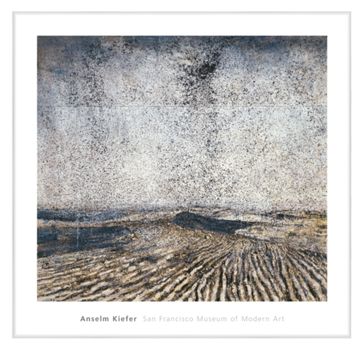 UPS Shipping
Ship an unlimited amount of small accessories for free. Ship one large accessory item or a piece of small furniture for $25 via UPS Ground.
Get an unlimited number of small accessories delivered for this set rate.
Delivery rate for a single large accessory item or a piece of small furniture.
Free delivery on this item.
View Options and Prices

Read all reviews
Affordable
Color
Great design
Quality construction
Unique
Customer comments about Poster Kiefer, Die Sechste Posaune, 1996:
Loved it when first I saw it on the website. Found out more about the artist and his other work and am proud to display it in my family room along with other handsome pcs from room and board.
I live in a:
House
This product is used in my:
Living room/family room/great room
Share this review