Description
Strength and scale combine to create Architecture—a modern bed with a dramatic presence. Handmade from sturdy steel and finished with a glossy powder-coating, Architecture adds a pop of color in a modern form. Choose the Tall profile for greater clearance between the side rails and the floor. No box spring required for either profile. Architecture
Special order item Made for you in 6 weeks.
$1,199.00
UPS Shipping
Ship an unlimited amount of small accessories for free. Ship one large accessory item or a piece of small furniture for $25 via UPS Ground.
Get an unlimited number of small accessories delivered for this set rate.
Delivery rate for a single large accessory item or a piece of small furniture.
Free delivery on this item.
View Options and Prices


Suggested Pairings
$479 - $649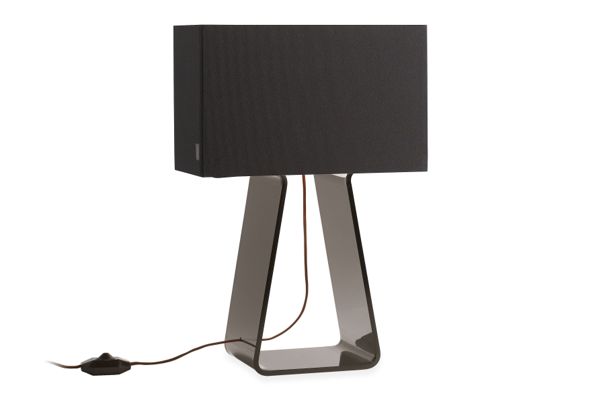 $106 - $314

Similar
Styles
$699 - $1,199 $699 - $1,199
Read all reviews
Durable
Great design
No box spring needed
Quality construction
Customer comments about Architecture Queen Bed:
After having an antique iron bed, we were ready for a change. I love that this bed is so heavy and sturdy, it feels like it could last like our antique bed. Its sparse style and simple lines make an impact and leave room for creativity with the bedding. The canopy gives a nod to romance, while the bed has a modern and clean aesthetic. We are very pleased.
Service and delivery comments:
Because we ordered a custom color, and the taller size, we had to wait some time for delivery, but the staff was extremely helpful and kept us informed on the delivery status. When the bed arrived with a scratch, the delivery staff was extremely helpful and we were able to resolve the issue to our satisfaction with no fuss, and great support from customer service. I can't speak highly enough of the staff.
I live in a:
House
This product is used in my:
Primary bedroom
Share this review
Ask a Question
Do you have questions about this product?
We're here to help with answers from our expert Design Associates.
13 Questions | 13 Answers
Displaying questions 1-13
Architecture Queen Bed

Q:

How does this bed come apart? I need to move apartments and am not sure if this is something I can do myself, i.e. if it requires a lot of tools

Asked on 2/5/2014 by Devi from San Francisco, CA

1 answer

Architecture Queen Bed

Q:

Is the powder finish resistant to scratching? The height of my bedroom door is 80". My concern is the door opens from a hall and will have to go into the room on an angle. Will it fit?

Asked on 11/1/2013 by Moving to modern from Lafayette, LA

1 answer

Architecture Queen Bed

Q:

What is the height of the top of the "headboard" rail?

Asked on 10/13/2013 by Noaagirl

1 answer

A:

On the Architecture bed, the measurement from the floor to the top of the highest horizontal bar behind the pillow is approximately 33 inches.

Answered on 10/14/2013 by Design Associate from Room & Board

Architecture Twin Bed

Q:

Does this bed come in one piece? My doors are not as wide as the bed but if it is assembled on delivery this should not be a problem.

Asked on 9/14/2013 by Hannah

1 answer

A:

We deliver all of our beds in pieces and then assemble them in home. You will have a headboard, footboard, side rails and slats.

Answered on 9/14/2013 by Design Associate from Room & Board

Architecture Queen Bed

Q:

How much does the bed weigh (Queen size)? It will be going into an upstairs bedroom and I worry about the weight of the bed.

Asked on 7/6/2013 by BT from Atlanta, GA

1 answer

A:

The Architecture queen bed weighs approximately 200 lbs.

Answered on 7/8/2013 by Design Associate from Room & Board

Architecture Twin Bed

Q:

Can I use the parson trundle bed with the twin architecture bed in white

Asked on 7/1/2013 by K from Nyc

1 answer

A:

With an under bed clearance of 9.5", our Parsons Trundle w/ mattress at 7.5" will be a tight fit because of the side rail brackets under the bed. The larger bed sizes in both Tall or Standard styles have a greater under bed clearance and would better accommodate the trundle. The trundle would also fit well under our Parsons twin bed in white.

Answered on 7/2/2013 by Design Associate from Room & Board

Architecture Queen Bed

Q:

Can a boxspring and mattress be used with this bed?

Asked on 6/13/2013 by renee

1 answer

A:

All Room & Board beds are designed to accommodate a mattress only, creating a clean, modern look. Adding a box spring makes the overall height very tall and may cover most of the headboard. The steel slat support system eliminates the need for a separate foundation. If you still prefer using a box spring, consider the Standard Profile Architecture bed which is lower to the floor than the Tall version.

Answered on 6/13/2013 by Design Associate from Room & Board

Architecture King Bed

Q:

Hi - How does the silver version of the Architecture Bed compare to the Portica Bed's finish? Thanks!

Asked on 6/11/2013 by Luka from Los Angeles, CA

1 answer

A:

The silver powder-coat finish is smooth to the touch and has a slightly metallic sheen. Our stainless steel Portica bed has a brushed, matte-satin surface with visible grain, lending a subtle texture.

Answered on 6/11/2013 by Design Associate from Room & Board

Architecture Queen Bed

Q:

Do you do custom colors? Your navy appears closer to a royal blue than a true navy. Do you provide color swatches for the paint colors just as you do for wood finishes?

Asked on 5/29/2013 by Contemporary Grandma from Carmel, In.

1 answer

A:

We offer the Architecture Bed in the 9 colors shown, plus classic natural steel. Yes, our navy does lean more towards royal blue. You can view and order free material cards here:

http://www.roomandboard.com/rnb/swatchlist/list.do?tab=material

Scroll down to 'Colors' to see the powder coat color samples. If you prefer, just give give us a call and we can get cards sent right out to you. 800.301.9720

Answered on 5/29/2013 by Design Associate from Room & Board

Architecture Queen Bed

Q:

How much weight will the Architecture Bed hold?

Asked on 5/29/2013 by Charles from Florida

1 answer

A:

This bed frame is made from remarkably strong materials and wouldn't have weight limitations if used as a bed. Small and larger sleepers alike will be well supported and not need to worry about the stability of the bed frame.

Answered on 5/29/2013 by Design Associate from Room & Board

Architecture Queen Bed

Q:

Most people have a mattress and box springs. Can you weld an extra bar across the top of the headboard for the Architecture Bed so we can use the box springs too?

Asked on 5/29/2013 by Charles from Florida

1 answer

A:

We don't have an option to change the bed frame design. We realize box springs are common so let us know if you have more questions about our slat support system and sleeping without a box spring.

Answered on 5/29/2013 by Design Associate from Room & Board

Architecture Queen Bed

Q:

How many pieces does the product come in (trying to see if it will fit through our doors)?

Is it easy to assemble?

Many thanks.

Asked on 5/25/2013 by Furniture

1 answer

A:

The 80"high head and footboard are large pieces welded at the corners, so it is smart to consider fit into your home. But the frame does come apart and the side rails at top and bottom are easy to connect, which we would do upon delivery. Our fit guide should help as you consider how to measure your space:

http://www.roomandboard.com/images/pdf/Fit_Guide.pdf

Answered on 5/25/2013 by Design Associate from Room & Board

Architecture Queen Bed

Q:

What color are the bed's side rails in the architecture color series? I understand the Portico has raw steel side rails that can be seen in the product pics.

Asked on 5/23/2013 by Marcus

1 answer

A:

The side rails on all of our steel beds in colors are powder-coated to match the bed.

Answered on 5/24/2013 by Design Associate from Room & Board
Displaying questions 1-13