Description
Made by a family-owned New York company, the Moda loft brings modern, functional design to kids' furniture. It features a clever, space-efficient design with multiple desk and bookcase storage options. Crafted of solid maple and white lacquered fiberboard, you can choose from three wood finishes and an array of bright colors. Moda
Stocked Item
$2,199.00
UPS Shipping
Ship an unlimited amount of small accessories for free. Ship one large accessory item or a piece of small furniture for $25 via UPS Ground.
Get an unlimited number of small accessories delivered for this set rate.
Delivery rate for a single large accessory item or a piece of small furniture.
Free delivery on this item.
View Options and Prices


Suggested Pairings
$319 - $439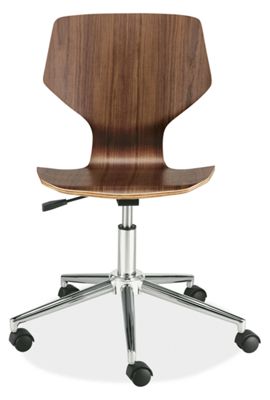 $199

Similar
Styles $699 - $1,499 $1,999
$1,499 - $1,599
Read all reviews
Customer comments about Moda Loft Bed with Middle Desk and Two Bookcases:
While the design is great and the underlying wood all seems quite good, the finish on this product is really terrible, particularly considering it is made for kids. It arrived with multiple scratches in the colored paint section (which is what attracted me to this product in the first place), and because it scratches so incredibly easily it is already -- within 4 weeks -- very marked up. My kids are fairly typical (I think) and not super aggressive on the furniture, but this is really sad. These beds are very very expensive (in my opinion) and while Room and Board has agreed to replace the pieces that came damaged but I think we will end up living with specked furniture sadly as I can't just keep replacing parts every two months! Oh well. I won't purchasing from them again, at least for this kind of piece. When I called to discuss it, the customer service person recommended that I return it and get something else because they could not make sure the lacquer would not chip.
I live in a:
House
This product is used in my:
Kids' room
Share this review
Ask a Question
Do you have questions about this product?
We're here to help with answers from our expert Design Associates.
12 Questions | 14 Answers
Displaying questions 1-12
Moda Loft Bed with Middle Desk and One Bookcase

Q:

We own the traditional Moda bunkbed set. Can we convert the upper bunk to a loft bed by pairing it with two loft ends and/or the center desk?

Asked on 2/15/2014 by Charmo from Los angeles

1 answer

A:

Unfortunately, the Moda bunk components, although similar in appearance, are not interchangeable with the Moda loft components. The only pieces that work with both configurations are the guardrails, siderails, ladder, and bed slats.

Answered on 2/17/2014 by Design Associate from Room & Board

Moda Loft Bed with Middle Desk and One Bookcase

Q:

can the top of the desk be removed to create an empty space underneath the bunk?

Asked on 1/11/2014 by Julie from United States

1 answer

A:

The Moda loft bed is designed to be used with the desk top. It is a necessary component of the whole unit and should not be removed without compromising the overall structural integrity.

Answered on 1/13/2014 by Design Associate from Room & Board

Moda Loft Bed with Middle Desk and One Bookcase

Q:

For the middle desk and one bookcase option, can the ladder be mounted on either side? The photos only show the ladder opposite the bookcase. I'd like to have the ladder on the same side as the bookcase.

Asked on 12/19/2013 by NYCskiMom from New York, NY

1 answer

A:

Yes, the ladder placement is flexible and can be placed on either the bookcase end or the end shown in the photo.

Answered on 12/20/2013 by Design Associate from Room & Board

Moda Loft Bed with Middle Desk and Two Bookcases

Q:

I want to make sure that the option with 2 bookcases and the desk in the middle is in fact exactly 79 inches or less. We have only that much room so I want to make sure it really fits.

ALso, can you confirm that the bookcases are open on both sides.

Thank you.

Asked on 11/27/2013 by llazarus from brooklyn

2 answers

A:

The Moda collection is hand crafted. As a result the dimensions can vary slightly, up to a ¼ inch. If you have other questions, feel free to contact our Design Associates at 800-301-9720.

Answered on 11/29/2013 by Design Associate from Room & Board

A:

The Moda collection is hand crafted. As a result the dimensions can vary slightly, up to a ¼ inch. If you have other questions, feel free to contact our Design Associates at 800-301-9720.

Answered on 11/29/2013 by Design Associate from Room & Board

Moda Loft Bed with Middle Desk and One Bookcase

Q:

What is the required ceiling height?

Asked on 11/3/2013 by jenny from sf, ca

1 answer

A:

The top of the upper bunk mattress (using the recommended 6"h mattress) is 58" high. The overall height is 72". A 9' ceiling will provide sufficient clearance, but 8' could be a little tight for overhead room, providing only 2 feet of clearance.

Answered on 11/4/2013 by Design Associate from Room & Board

Moda Loft Bed with Middle Desk and One Bookcase

Q:

Can I switch the location of the ladder from the right side to the left side? Do I have to specify which option I choose when I order the product, or I can install the same product either way?

Asked on 9/22/2013 by Tibor from Los Altos

1 answer

A:

The ladder for Moda can be installed on either the left or the right side. Our drivers will install this on the side of your choice at delivery, but it's something that you can easily switch on your own should you decide to change up the room.

Answered on 9/23/2013 by Design Associate from Room & Board

Moda Loft Bed with Middle Desk and Two Bookcases

Q:

What are the dimensions of the cubicles in the bookcases? Are they all the same size?

Asked on 9/11/2013 by NYCskiMom from New York, NY

1 answer

A:

For each side of the Moda Loft Bed with Middle Desk and Two Bookcases, the interior dimensions for the four top cubicles are 18" w x 12" d x 13" h. The interior dimensions for the four bottom cubicles are 18" w x 12" d x 11 1/2" h. Please note that the shelves are not adjustable.

Answered on 9/12/2013 by Design Associate from Room & Board

Moda Loft Bed with Middle Desk and One Bookcase

Q:

What is the height from the floor to the sleeping platform?

Asked on 9/2/2013 by NYCskiMom from New York, NY

1 answer

A:

The height to the bottom of the mattress is 58.75".

Answered on 9/2/2013 by Design Associate from Room & Board

Moda Loft Bed with Middle Desk and One Bookcase

Q:

What is the height of the desk? Is there a drawer cabinet that can fit under the desk. There seems to be no desk storage.

Asked on 7/26/2013 by Anu from New jersey

1 answer

Moda Loft Bed with Middle Desk and Two Bookcases

Q:

What is the length of the desk in the two bookcase option and one book case option?

Asked on 7/8/2013 by Anu

1 answer

A:

The center desk top in the two bookcase option is 55w 24d, on the one bookcase option the center desk is 65w 24d.

Answered on 7/8/2013 by Design Associate from Room & Board

Moda Loft Bed with Middle Desk and One Bookcase

Q:

Does this loft bed come in a Full size (so it would fit a full size mattress, not a twin)?

Asked on 7/2/2013 by B from NYC

2 answers

A:

The Moda Loft is only available in twin size.

Answered on 7/3/2013 by Design Associate from Room & Board

A:

The Moda Loft is only available in twin size.

Answered on 7/3/2013 by Design Associate from Room & Board

Moda Loft Bed with Middle Desk and One Bookcase

Q:

What is the height from floor to underside of bed?

Asked on 6/23/2013 by D from United States

1 answer

A:

From the floor to the underside of the Moda loft bed is 57". Let us know if you have further questions about Moda.

Answered on 6/23/2013 by Design Associate from Room & Board
Displaying questions 1-12