Description
Crafted exclusively for us by Hennepin Made, each pendant is hand-blown by a glass artist in their northeast Minneapolis studio. Hang one to light a small space or group them over a dining area. No matter your choice, the unique look is sure to brighten your home.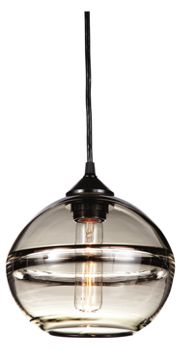 Hennepin Made
Stocked Item
$299.00
UPS Shipping
Ship an unlimited amount of small accessories for free. Ship one large accessory item or a piece of small furniture for $25 via UPS Ground.
Get an unlimited number of small accessories delivered for this set rate.
Delivery rate for a single large accessory item or a piece of small furniture.
Free delivery on this item.
View Options and Prices

Read all reviews
Customer comments about Hennepin Made Banded Globe Pendant:
Delivery was excellent
The lights added style and function to our space
I live in a:
Apartment/condo
Share this review
Ask a Question
Do you have questions about this product?
We're here to help with answers from our expert Design Associates.
8 Questions | 8 Answers
Displaying questions 1-8
Hennepin Made Banded Globe Pendant

Q:

How can I get a replacement bulb?

Asked on 1/27/2014 by Movigoer from Los Angeles

1 answer

A:

The Hennepin Made pendant utilizes a 60watt maximum Edison-style bulb, which can be found at most hardware stores.

Answered on 1/28/2014 by Design Associate from Room & Board

Hennepin Made Banded Teardrop Pendant

Q:

What is the size of the ceiling mounting plate and what size dining room would you suggest one light would be adequate for.

Asked on 1/15/2014 by kariynn

1 answer

A:

Our Hennepin Made pendants are designed to accommodate a 60W max bulb which alone won't provide a great deal of light for most dining rooms, but it comes down to personal preference. Many times, our customers and showrooms are choosing to do a grouping of two or three pendants from an aesthetic standpoint as well as for the practical purpose of providing more light. The diameter of the ceiling plate is 5".

Answered on 1/16/2014 by Design Associate from Room & Board

Hennepin Made Banded Globe Pendant

Q:

Can a group of these lights utilize one junction box?

Asked on 1/6/2014 by pc

1 answer

A:

Each pendant is designed to be hardwired. Please consult a professional electrician for advice regarding the specific junction box you would like to use in your home.

Answered on 1/7/2014 by Design Associate from Room & Board

Hennepin Made Banded Globe Pendant

Q:

Is the Hennepin pendant dimmable? Also is a Seattle R&B store I saw them all in a one piece canopy that was black - is this an option?

Asked on 12/30/2013 by fan on Minnesota made from Seattle

1 answer

A:

Each Hennepin Made Banded Globe Pendant will include a black ceiling plate. These pendants require hard-wire installation; and could be with a dimmer switch.

Answered on 1/2/2014 by Design Associate from Room & Board

Hennepin Made Banded Cone Pendant

Q:

Does each cone fixture include one canopy? If not, what is recommended to cover replacement of existing canopy?

Asked on 12/30/2013 by Franky from Chicago Il

1 answer

A:

Yes, each pendant includes one canopy.

Answered on 12/31/2013 by Design Associate from Room & Board

Hennepin Made Banded Globe Pendant

Q:

Do you provide the canopy for more than one globe? I would like 5 globes suspended on one canopy..

Asked on 10/29/2013 by Valerie from United States

1 answer

A:

No, we do not offer a canopy fixture for the Hennepin pendant collection.

Answered on 10/30/2013 by Design Associate from Room & Board

Hennepin Made Banded Globe Pendant

Q:

Can this be installed as a swag?

Asked on 6/25/2013 by Redecorating

1 answer

A:

The Hennepin Made banded globe pendant comes with 8' of cord. It can swag up to that distance. Lamp is meant to be installed into a ceiling mounting box. It does not include a plug. If plugging into an outlet, a plug would need to be installed on the cord separately.

Answered on 6/26/2013 by Design Associate from Room & Board

Hennepin Made Banded Globe Pendant

Q:

Hi - I was wondering if these could be retrofitted to work in an existing track lighting system on the ceiling.

Thanks

LH

Asked on 5/6/2013 by Pendant light fan

1 answer

A:

Yes, with correct parts to retro fit into your track lighting system, this pendant can be used in track lighting. It is recommended to have an electrician perform this type of installation.

Answered on 5/7/2013 by Design Associate from Room & Board
Displaying questions 1-8