Description
Handcrafted from solid wood and veneer, Mason offers a variety of color and finish combinations to create the look you want. With simple, sleek lines, this bed will blend seamlessly with other furniture in your child's room. Choose the storage headboard alone, or add a freestanding bookcase to one or both sides.
Who Makes This?
Learn about the artisans: Wood Products of Grand Forks, North Dakota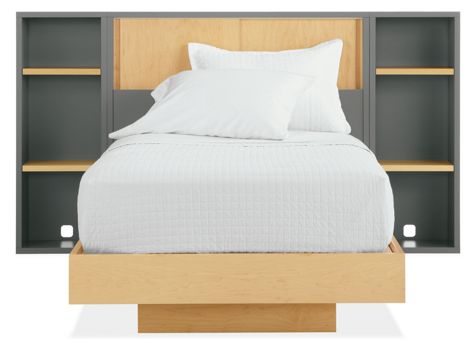 Mason
Stocked Item
$2,097.00
UPS Shipping
Ship an unlimited amount of small accessories for free. Ship one large accessory item or a piece of small furniture for $25 via UPS Ground.
Get an unlimited number of small accessories delivered for this set rate.
Delivery rate for a single large accessory item or a piece of small furniture.
Free delivery on this item.
View Options and Prices


Suggested Pairings
$179 - $209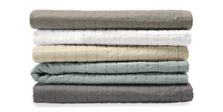 $45 - $199

Similar
Styles $999 - $1,299 $1,549 - $2,199
Ask a Question
Do you have questions about this product?
We're here to help with answers from our expert Design Associates.
5 Questions | 5 Answers
Displaying questions 1-5
Mason Full Bed w/Sliding-Door Storage Headboard and Two Bookcase/Nightstands

Q:

Is there any lead time on this bed? How long, after ordering, would it take to get it?

Asked on 9/13/2013 by Mary from United States

1 answer

A:

We stock the Grey/Maple and the Graphite/Walnut any of the other options would be a special order. Stocked items would take 1-3 weeks depending on location.

Answered on 9/14/2013 by Design Associate from Room & Board

Mason Twin Bed w/Sliding-Door Storage Headboard and Two Bookcase/Nightstands

Q:

I'm thinking about getting this bed. Will the maple finish match that of the maple finish on the Copenhagen dresser?

Asked on 8/21/2013 by Sherry

1 answer

A:

The maple finish between these two pieces, while not an exact match, will be very compatible and should look nice together.

Answered on 8/22/2013 by Design Associate from Room & Board

Mason Full Bed w/Sliding-Door Storage Headboard and One Bookcase/Nightstand

Q:

can the bookcase/nightstand be switched to the left side of the bed? It's shown here on the right.

Asked on 7/2/2013 by csc

1 answer

A:

The Mason bookcase/nightstand is freestanding and can be placed on either side of the bed.

Answered on 7/2/2013 by Design Associate from Room & Board

Mason Twin Bed w/Sliding-Door Storage Headboard and Two Bookcase/Nightstands

Q:

Does this bed accommodate a standard box spring?

Asked on 6/11/2013 by fan of comfortable minimalist furniture from Baton Rouge, LA

1 answer

A:

All Room & Board beds, including the Mason are designed for a mattress only for a clean, modern look. On the Mason Bed, the platform that supports your mattress sits just inside the frame, set down about an inch.

Answered on 6/11/2013 by Design Associate from Room & Board

Mason Twin Bed w/Sliding-Door Storage Headboard and Two Bookcase/Nightstands

Q:

It is not possible to see the queen sized bed in the Mason line using your drop down menu. Can you please provide a way to view the queen options? Thank you.

Asked on 5/29/2013 by m

1 answer

A:

Thanks for your interest in the Mason Bed. We currently offer this style in Twin and Full sizes only.

Answered on 5/29/2013 by Design Associate from Room & Board
Displaying questions 1-5