Description
Take your music with you. The Libratone Zipp is battery-driven and easy to carry. Stream high-quality audio wirelessly from your iDevice even without a WiFi network. And you won't have any extra remotes to worry about because everything is controlled from your iDevice. It's also compatible with most Android and Windows devices. Move it from room to room and get amazing sound wherever you are.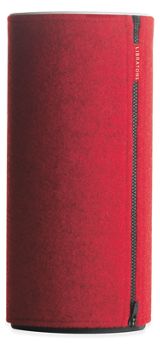 Libratone
Stocked Item
$399.00
UPS Shipping
Ship an unlimited amount of small accessories for free. Ship one large accessory item or a piece of small furniture for $25 via UPS Ground.
Get an unlimited number of small accessories delivered for this set rate.
Delivery rate for a single large accessory item or a piece of small furniture.
Free delivery on this item.
View Options and Prices

Read all reviews
Great Audio Quality
Great design
Customer comments about Libratone Zipp Speaker:
Long ago, I was an audiophile. I had expensive (and large) separate components. I bought them from one of those weird local stores that sold british equipment. Over time, family and work became more important. I didn't have the time or space to care, and sold everything off.

But my children love music, so I've been trying to find an audio system that I can live with. For the past few weeks, I've been playing with different wireless speakers.

The Libratone Zipp is, by far, the best device I've tried. It isn't the cheapest, nor does it have the most reliable connection (due to Apple's AirPlay technology). But it does three things exceptionally well.

First, it sounds great. I don't mean "great" as in "loud and bassy" (though it is plenty loud and provides plenty of bass for its size). I mean that it's very balanced and it lets you hear details. The Libratone makes you want to listen to more music.

Secondly, it integrates beautifully with your Apple devices (laptop, phone, iPad, etc). You can play music using whatever service (or app) you want: iTunes, Rdio, Spotify, etc. Unlike some other products that force you to use their player, you can use whatever player you want.

Third, it's unobtrusive and pretty. This system takes up a very small amount of space and doesn't stick out.
I live in a:
House
This product is used in my:
Kitchen, Living room/family room/great room
Share this review