Vintage Presstype
Summary
Description
Recalling the days when all printed material was set by hand, these one-of-a-kind works of art are created from individual letters of vintage wood-block type from France.
solid wood shadow-box frame
Care & Fit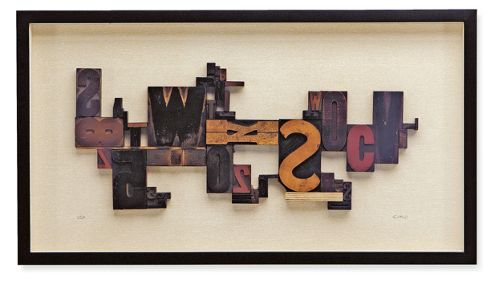 Vintage Presstype Letters Large
Stocked Item
$399.00
Product Rating
UPS Shipping
Ship an unlimited amount of small accessories for free. Ship one large accessory item or a piece of small furniture for $25 via UPS Ground.
Get an unlimited number of small accessories delivered for this flat rate.
Delivery rate for a single large accessory item or a piece of small furniture.
Free delivery on this item.
View Options and Prices

Read all reviews
Decoration
Display photography/art
Customer comments about Vintage Presstype Letters Large:
This piece of art is really awesome because it's constructed with real vintage printer block letters and symbols, however, the images on the website show more vibrant colors. We purchased 3 framed pieces in the two sizes for our business (Communications/PR) they arrived very dark and with minimal color. The quality of the construction is solid, but we were disappointed that the two smaller square pieces came with glass and the large piece had plexi-glass. We would have preferred the set to be all framed with the same material.

I would still recommend purchasing this art, just know they are each uniquely handmade and the blocks may not match the vibrant colorful example that Room and Board advertises on their website.
This product is used in my:
Office
Share this review