Description
The Waikiki outdoor umbrella provides shade at any angle. The cantilevered design allows you to pivot the umbrella 90 degrees while the base remains stationary. Made from aluminum and durable Sunbrella® fabric in taupe, Waikiki requires base weights, which are sold separately.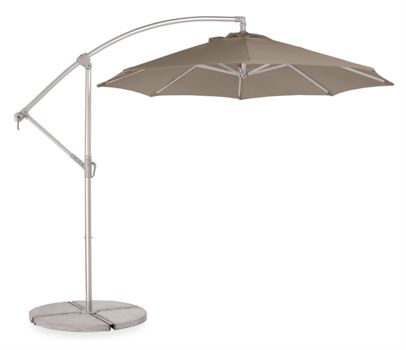 Waikiki 9' Round Taupe Umbrella
Stocked Item
$379.00
UPS Shipping
Ship an unlimited amount of small accessories for free. Ship one large accessory item or a piece of small furniture for $25 via UPS Ground.
Get an unlimited number of small accessories delivered for this set rate.
Delivery rate for a single large accessory item or a piece of small furniture.
Free delivery on this item.
View Options and Prices


Suggested Pairings

Similar
Styles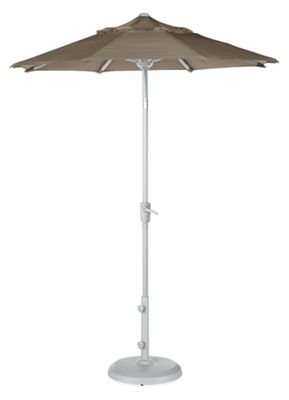 $199 - $249
Read all reviews
Customer comments about Waikiki Taupe Umbrella:
This is a really good looking umbrella, and it's held up okay for me for the few weeks I've had it. That said, I'll be shocked if it lasts more than 2 summers (and that's if I'm lucky). Here's the issue: The umbrella itself is very large and heavy; but all the fittings that hold it together (and operate it) are cheap plastic and nylon cord. You have to buy the concrete weights to use this umbrella, and can't move the base once it's set up, which would be fine if it was easy to rotate the thing, but you really have to squeeze two buttons hard and push on the flimsy cantilever arm while you are squeezing--it took two people to do it to rotate it at our home. Also, there is a *really* junky plastic sleeve you have to disengage to retract the umbrella canopy to the pole (i.e. not leave the canopy swinging over the seating area when folded), and if and when that breaks, the whole thing will be done with. Have to say I love the size and love the look (and am keeping it for that reason), but at $350-plus, it shouldn't feel like a disposable, one-season purchase. Also, there are already water marks on the taupe fabric.
I live in a:
House
This product is used in my:
Vacation/second home
Share this review
Customer comments about Waikiki Taupe Umbrella:
This umbrella cannot handle even the slightest breeze. If the wind picks up at all, it's actually quite dangerous for anyone over five feet tall.
I live in a:
Apartment/condo
Share this review
Customer comments about Waikiki Taupe Umbrella:
I was extreamly disappointed in this umbrella. While it is stylish, and affordable, it cannot be used in any type of wind. Not even a light breeze.

The first umbrella I bought broke the second time I opened it due to "wind". Immediatly after it's collapse I contacted our local weather service to check wind speeds. The highest recorded for my area around that time was 6MPH.

I returned it to Room and Board thinking it may have been just an isolated problem with that particular unit. However, when the new umbrella arrived it became very clear that these umbrellas only work where there is no possibility for wind.

I will add that the Room and Board people were very nice and helpful with this problem. It's just not a good product.
I live in a:
House
This product is used in my:
Backyard
Share this review