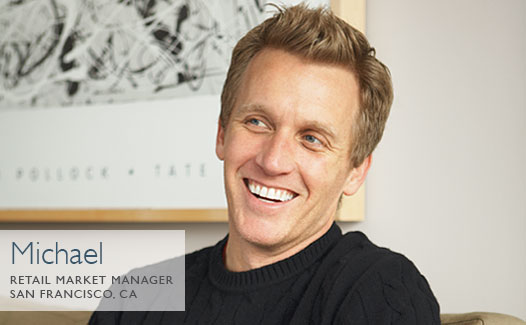 For Michael, the biggest difference between Room & Board and his previous retail roles is the ability to form genuine relationships with his team. Once a multi-store manager at the Gap and district manager with Apple, Michael was used to lots of travel and not much personal connection.
"In the past, when I led large teams, it was usually by phone and email. I had to travel a lot and the biggest challenge with such a large geographic area to cover was that I would be in my car for many hours each week and I didn't have much face time."
In addition to cultivating rich connections with his team, Michael appreciates the fresh take on leadership at Room & Board. With the focus on ownership and individual accountability, he creates a very different team dynamic. "Our flat organization really empowers people to broaden their role, so in turn, my role is more about leading and being a resource rather than being directive and following a predetermined task list. While it is a lot more work, I see myself as an inspirational coach and it is a lot more rewarding."
This structure has benefited his career growth as well, especially as it relates to developing strategy and building the brand in his market. "I think every market is different and a key component to success in my role is truly understanding what is happening within my market and then really feeling like I can chart a course on how to drive the business. I love that I can be connected to the San Francisco community without red tape—and while it is up to me to set the direction, it is still collaborative. I have a lot of support throughout the entire organization."
Room & Board also sparked a new interest in design for Michael that has grown since joining the San Francisco team. "I was at a point in my career where I was discovering that I was much more of a creative-based person and when I first visited the Room & Board showroom I sensed a great vibe and an amazing attentiveness from the Design Associates. This was the catalyst I needed to learn more and through the interview experience I realized this was a place I would enjoy coming to every day. That feeling is something that you don't find everywhere."