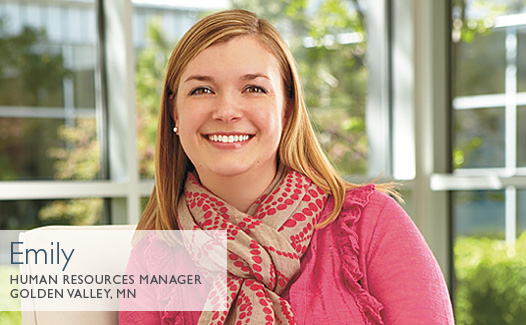 After working in human resources for a number of years, Emily was looking for a role and an organization where she would be inspired by the culture, product and people.
She appreciated her previous experience in Information Technology consulting, but after seeing a posting for a Human Resources Associate role, she was compelled by the possibility of combining her love for Room & Board's products with philosophies she could truly stand behind. "I was really impressed throughout the interview process with the time and effort that was taken and it allowed me to step back and gain the clarity to see that it was going to be a positive move for my career."
After joining the organization in March of 2011, she immediately recognized and appreciated the multifaceted nature of her role paired with possibilities for growth and collaboration. "It is important to me to provide support and work in partnership with the human resources team. It means my team members can focus their talents on the cultivation of a fulfilling and successful work environment. As our culture continues to evolve and strengthen, I can understand the impact on the business and how it translates to our company-wide focus on providing an excellent customer experience."
She appreciates a culture that is not directed by rules and processes but rather allows staff members to be guided by the philosophies that have been built over time.
When speaking with candidates, she has found it inspiring to convey what they can expect as a staff member and share the story of Room & Board. "I appreciate the consistency of our Guiding Principles. They are thread throughout the organization, whether here at our Central Office, in a store on the East Coast or a Delivery Center on the West Coast."
"I know I am very fortunate to enjoy going to work each day, being surrounded by passionate and engaged people and quality products. The happiness I find in my work translates to quality time with my family."