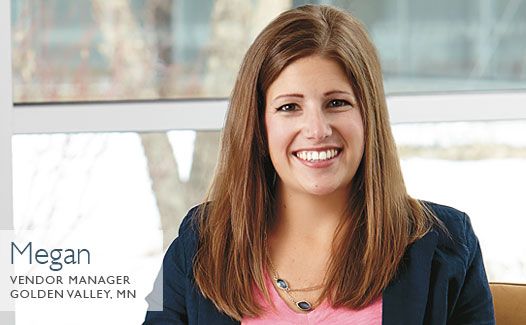 After spending seven years at a large corporation with a hectic pace, Megan was ready for a change.
"At my previous company, my job changed every 12 to 18 months, resulting in five different positions during the time I was there. The focus was always on the next promotion, but each role had a very narrow focus and I didn't feel as though I was broadening my skills."
As a Vendor Manager at Room & Board, Megan embraces the focus on collaboration and relationship-building that she experiences both within her team and across the entire company. "I love that Room & Board is a flat organization where all opinions are heard and there are always great ideas surfacing because of the open discussions. I don't have to worry about selling myself in order to get the next promotion and we don't have meetings just to have meetings. Instead we come together to get work done and we move forward."
It was during the interview process that Megan first got a sense of just how different Room & Board's culture is from her past experiences. Since joining the company and immersing herself in the culture, she is convinced that Room & Board's pace is exactly the change she needed. "The pace of business is still very fast, but we don't change for the sake of changing. We get a lot accomplished, but we are able to do it in a relaxed culture."
Megan appreciates leading a team that values each other as true partners. "We support each other and we all pitch in when a big deadline is approaching. I am constantly letting my team know that they are not on their own and asking them what they need from me. Open communication is valued here and that really fits with my working style."