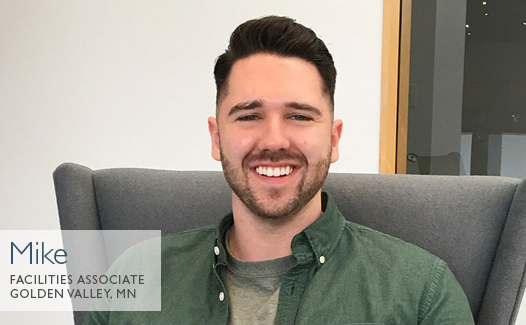 As a Facilities Associate, Mike can count on one thing: every day will be different. "When you are managing so many projects across the country, there's always something happening somewhere that needs attention. The majority of the work is reactive and it's exciting to be able to help my partners in the stores and delivery centers when they have an issue with mechanical, HVAC or other systems. The challenge is to balance working on long term projects with the day-to-day emergencies that come up. It definitely keeps things interesting," Mike smiles.
Mike originally joined Room & Board as a Cleaning Associate while he finished his final year of college. Mike was drawn to the daytime hours of the Room & Board position. As soon as he began interviewing, however, he realized Room & Board was a different kind of company, putting great care into its hiring process. "I had never been interviewed for my previous jobs and I was surprised that I had four interviews at Room & Board for my role as Cleaning Associate. It was clear they were trying to find the right person for the role and that they wanted someone who was passionate about their work."
Mike's organization skills and attention to detail did not go unnoticed and he was consistently given more responsibility over the two-year period before he transitioned to his current role as Facilities Associate. Mike shares: "My leaders have always given me the opportunity to grow by allowing me to take the lead on projects so that I could learn in a hands-on way." Most recently, Mike was given the responsibility of overseeing the flooring renovation of 6,000 square feet of showroom in Chicago. "I found a company that specializes in 'deconstruction' to whom we could donate the wood floors for them to repurpose. Their goal is to keep as much as possible out of landfills, which aligns with Room & Board's goals as well. It was so gratifying that my idea was considered and supported, even though it had potential to lengthen the process."
As Mike continues to grow in his role, he is looking forward to the evolution of his department and the part he will play. "We are working on creating tools to put ourselves into a more proactive state. The nature of facilities management is that there will always be unexpected things popping up, but as a department we are working on getting ahead of those issues as much as is possible."