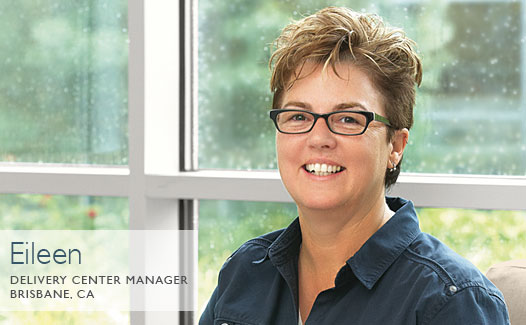 Like many of our staff members, Eileen fell in love with our products before she worked at Room & Board. What makes Eileen's journey unique is that she initially thought her dream of employment with the company was only wishful thinking since there wasn't a location near her home in San Francisco.
"I was visiting friends over Labor Day in Southern California and they wanted to take me to the South Coast Plaza Village store. We had been to Disneyland the day before, which is supposed to be the happiest place on earth, but after spending time at the store looking at all the furniture, I remember thinking that Room & Board was the happiest place on earth for me."
Although a Design Associate mentioned that a San Francisco store was in the plans, Eileen didn't think much of it until a few weeks later when she was reading the newspaper online one morning and an advertisement popped up for employment opportunities at Room & Board in San Francisco.
As a 17-year veteran at FedEx, she had been considering a change and was thinking of exploring other opportunities. "I wanted different challenges but I wasn't really looking. In fact, I had just accepted a different role at FedEx—but what I really wanted was to be in a creative environment."
Thinking about leaving Fed Ex was hard for Eileen because she worked with so many great people and had been given a lot of opportunities over the years, including her role as an Operations Manager working with delivery couriers and dispatchers. "At FedEx, I worked with amazing teams, but the opportunity at Room & Board felt like it was falling into my lap and I remembered back to Labor Day weekend, thinking how cool it would be to work at Room & Board."
Eileen applied for the San Francisco Delivery Manager role and after being offered the job had the privilege of opening the new Delivery Center. "I loved having the opportunity of creating a team from scratch. One of the things I most enjoy about working here is that I get to work with really competent people that care about what they do—at other companies you might have one or two people that are rock solid but here, everyone is, and they are fully committed to doing the best they can for our customers and for each other."