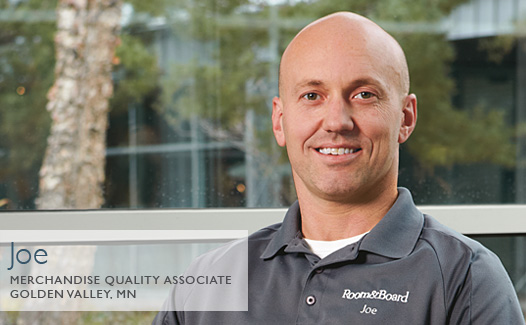 Joe knew it was time for a career change when the stress of his office job at a large ATM company started affecting his home life.
"Right out of college I worked in a cubicle world managing issues for a number of sales people as well as dealing with customer issues. There was a lot of stuff coming at me every day and when I took a day off, I would come back to hundreds of voice mails from upset customers. After six years, I was really burnt out. I didn't have any balance in my life and I knew it was time for a change."
Joe wasn't exactly sure what he wanted to do so he took a temporary delivery job. "It was a great decision. I realized how much I love being out and about every day and not sitting at a desk. I heard about Room & Board from a friend and started learning as much as I could about the company." Joe was impressed after reading Room & Board's Guiding Principles on the company website. "It sounded like a great place to work and there happened to be a position open. Once I started interviewing, I noticed that so many of the people I met had been here for a long time. With so much tenure, I knew it had to be a great place to work."
Joe worked as a Delivery Associate from 2005 to 2014, at which time he transitioned into his current role as a Merchandise Quality Associate. "I loved interacting with all the customers when I was delivering. Now I still get to focus on customer service, just from a different angle." Of his current role, Joe shares: "There's a lot of variety and teamwork in my day — from offloading the trucks in the morning, to prepping and building the furniture so it's up to Room & Board standards, to packing it all back up so it can be shipped and delivered to customers' homes. Working in Merchandise Quality, I have the opportunity to collaborate daily with my peers in Vendor Management, Customer Support and Returns to work through any issues and keep things running smoothly."
Having joined the ranks of the tenured team members he had met during his interviews, Joe credits the positive work environment and focus on customer service for his longevity. "In my previous world, the customers were always angry, but here they are happy. They are excited about their new furniture and thrilled with our service. At Room & Board we work as a company-wide team to ensure a great experience for the customer. It's a philosophy that we take to heart and take great pride in."