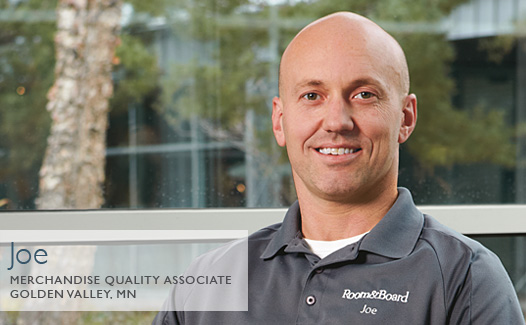 Joe knew it was time for a career change when the stress of his office job at a large ATM company started affecting his home life.
"Right out of college I worked in a cubicle world managing issues for a number of sales people as well as dealing with customer issues. There was a lot of stuff coming at me every day and when I took a day off, I would come back to hundreds of voice mails from upset customers. After six years, I was really burnt out. I didn't have any balance in my life and I knew it was time for a change."
Joe wasn't exactly sure what he wanted to do so he took a temporary delivery job. "It was a great decision. I realized how much I love being out and about every day and not sitting at a desk. I heard about Room & Board from a friend and started learning as much as I could about the company."
Joe was impressed after reading Room & Board's Guiding Principles on the company website. "It sounded like a great place to work and there happened to be a position open. It was once I started interviewing that I was really impressed—so many of the people I met had been here for such a long time. With so much tenure, I knew it had to be a great place to work."
After joining Room & Board, Joe quickly realized that these customers were different than the customers from his office job. "In my previous world, everyone was always angry, but here everyone is happy to see us when we come to their door. They are excited about their new furniture and thrilled with our service."
Customer service wasn't new to Joe, of course, but Room & Board's focus on the customer was. "It should be like this everywhere, but most companies don't really make customers the priority. That really struck me initially and still does to this day."
This philosophy is something that Joe believes his entire team shares. "We have been at homes where there are other delivery folks and I can see a marked difference in how we operate. From the smallest thing like taking our shoes off at the door—this shows how we are careful and considerate when we enter a customer's home. All our drivers take great pride in that."